Ken Vandermark
Work series : Musician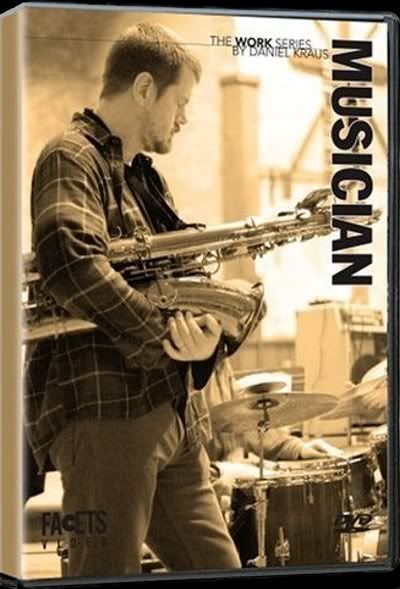 a film by Daniel Kraus
2008 / US / color / 58 minutes (+ additional footage)
DVD (region 1) from Facets Video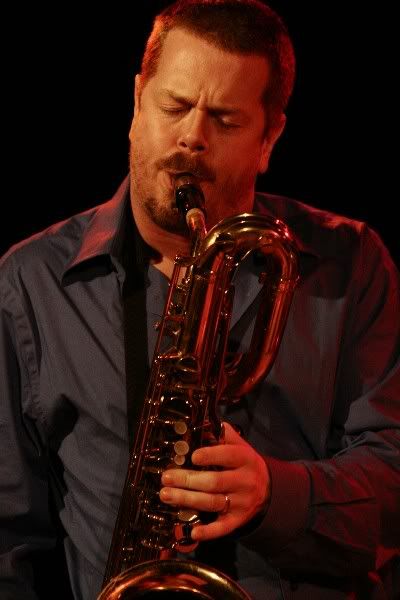 photo by Juan-Carlos Hernandez


Anyone who has ever known anyone who worked as a musician should be well-aware of what a tough career it is – whether the performer is in a part-time local band or one who tours widely and often, with varying degrees of success and recognition. Suffice to say it's not an option normally offered up by a high school job counselor. As difficult a road as this might be for anyone pursuing fame and fortune through relatively popular forms of music – rock & roll, singer-songwriter, country – imagine now how much more close to impossible it would be to actually earn a living and survive (both practically and artistically) when one's chosen genre is avant-garde, experimental jazz. Chicago-based reed player Ken Vandermark has done just that – and I think it's safe to say, looking over his career (and he's still only in his 40s, with hopefully a long and fruitful future ahead of him), that he's managed to do just that…and do it very well. Vandermark was the recipient of a MacArthur Fellowship in 1999, which raised some eyebrows among those who were unfamiliar with his work (or his work ethic). I won't claim to have heard everything he's done – he has over 100 recordings to his credit, working with something like 40 ensembles, including his main band, The Vandermark 5, as well as collaborations with many of the brightest talents in his field, such as Peter Brötzmann, Mats Gustafsson, Ab Baars…the list goes on and on…) – but I can vouch for the stunning quality of everything I've heard. The sheer volume of his recorded output would limit the quality level when applied to most artists – but his dedication and imagination, as well as the depth and brilliance of his composition and performing, make every release something to anticipate greatly. He tours an average of 8 months every year, and when coupled with the time needed for composition, rehearsal and self-management (to say nothing of his home life!), Vandermark is, to say the least, a busy fellow.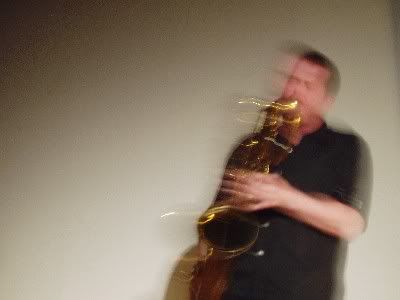 photo by Amanda Kraus


Daniel Kraus turns the camera of his acclaimed Work series on Vandermark for this documentary – the cinema verité style he employs is absolutely perfect in bringing the viewer into Vandermark's world. We see Ken in the sometimes agonizing process of working on new compositions at home, alone; listening to phone messages and returning calls; setting up tours and negotiating concert fees and accommodations; rehearsing with his various bands, working out arrangements; traveling from gig to gig (no luxury limos here, folks – one has to really want, or be driven, to this specific calling); schlepping equipment in and out of cramped, hard-to-access performance spaces; &c, &c…you get the picture. It's not a glamorous life – it's one that the artists who choose it are compelled to pursue for the sake of their art, which springs from their souls and, in most cases, will not be denied. In not concentrating on performance footage, per se, Kraus has imbued his film with a deeper sense of reality than other documentaries that mostly show a band going through the same motions night after night, every movement on stage choreographed to the nth degree. This is the real deal, with no make-up, no pretension.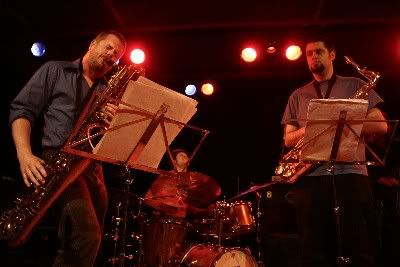 photo by Juan-Carlos Hernandez


The filmmaker also eschews the direct interview – sometimes we see Vandermark speaking with audience members or others about his work, but briefly. For the most part, Kraus allows the audience to become a part of the experience by immersing them in it without additional commentary – the images are so vivid, without the façade of 'acting', that the film is completely successful in this and all other regards. I can recall only a handful of music-related documentaries that were this perfect – Straight, no chaser, Charlotte Zwerin's great film about Thelonious Monk; Step across the border, Nicolas Humbert and Werner Penzel's document of Fred Frith's travels (musical and otherwise); Agujetas cantaor, Dominique Abel's brilliant portrait of possibly the greatest cantaor flamenco of our time; and Triumph of the underdog, Don McGlynn's film on Charles Mingus all come to mind. These are all pinnacles of the form, and it's easy to see why Musician made the list of '7 masterpieces of the 00s you've likely never seen' on movieline.com.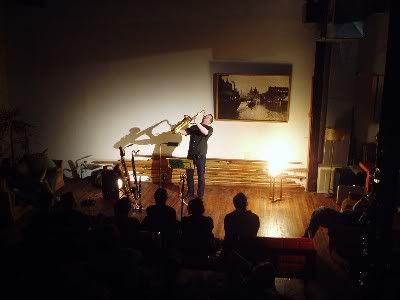 photo by Amanda Kraus


This is a film that can be enjoyed by anyone even remotely interested in understanding the life of a working musician – and for jazz fans, especially those already familiar with Ken Vandermark's fine work, it's an absolute treasure. Although there is little actual performance footage in the body of the film itself, there's plenty of on-stage material here in the form of nearly an hour of 'deleted scenes' – Ken is featured in various clips with The Vandermark 5, The Territory Band-6, Bridge 61, Cinc, and in some solo and duo improv sessions as well – all of it beautifully performed, filmed, and presented. There are also some brief segments of interviews and moments of relaxed conversation – all of it adds greatly to the effect of the body of the film itself.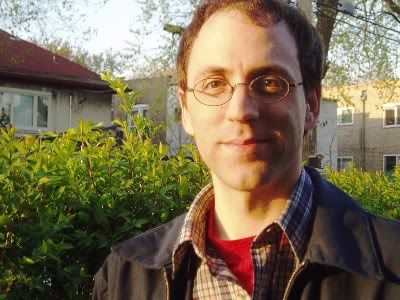 Daniel Kraus...photo by Amanda Kraus


Watching it again in preparation for putting this piece together, I found it hard to limit myself – the temptation every time I put the DVD on is to view it again in its entirety…which I'm sure I'll do again and again. It's a wonderfully drawn portrait of someone who works very hard in pursuit not only of his livelihood but his artistic fulfillment…and an extremely compelling one. In closing, I'll leave you with a short clip – I think you'll get a good sense of both the mood and quality of this film from this brief excerpt…


The work series website

Ken Vandermark official website