Valentin Silvestrov
Fleeting melodies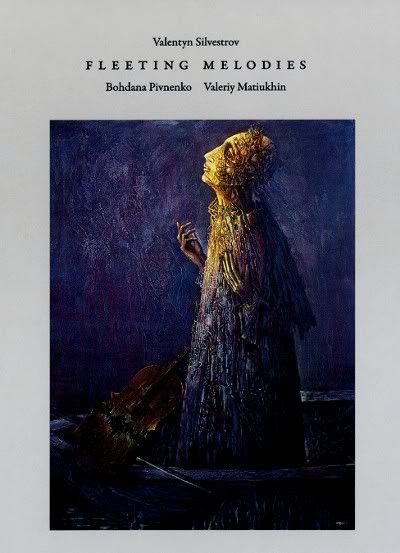 Rostok (Ukraine), 2008



In the booklet for the 2004 ECM release of Silvestrov's Requiem for Larissa, music journalist Steve Lake began his essay: 'Time in Valentin Silvestrov's music is a black lake. The water barely moves; the past refuses to slide away; and the slow, irregular stirrings of an oar remain in place.' An apt image for the stillness present in so many of Silvestrov's compositions – a sense of motionless repose is palpable, couple at the same time with a feeling of connection with things past, ever present in a rather Proustian way, a remembrance that exists beyond the ordinary boundaries of thought and memory, leaving its mark on the multiple, mica-fine layers of the human soul and psyche.

The music on Fleeting melodies is described by the composer as '…a large cycle, comprised of seven works, which are performed without interruption – as one large text…the expanse in which melodies exist on the boundary between their appearance and disappearance…' There is a direct reference in the title of some pieces to Tchaikovsky, as well as Silvestrov mentioning Bach's The art of the fugue in his brief notes – but the listener also hears / feels wisps of echoes from other sources: Schumann, Mozart, Webern…nothing that is so blatant as a copied phrase or passage, but newly created lines that vividly demonstrate the love and understanding that Silvestrov has for the historic composers he admires…those who have preceded him on the path he travels.
The performers on this disc – Bohdana Pivnenko (violin) and Valeriy Matiukhin (piano) – show, in turn, their love and understanding of Valentin Silvestrov's work. His interpretative instruction, which they execute brilliantly throughout the album, written in the score to one of the pieces, 'While listening, this music must sound light and clear, distant…', could apply to just about all of his late work – it settles on the ear of the listener like a mist that is barely there, a whisper from another place, another time…delicate, but not to be ignored. More than any other contemporary composer whose work I've experienced, Silvestrov's music sings – with or without a vocal component. There is so much more at work here than mere saccharine melodies that amount to ear candy – the beauty in these pieces carries meaning and emotion felt on the deepest level, wrapped in music that appeals to both the heart and intellect. Pivnenko and Matiukhin weave their lines in and out of each other, rapt in their interpretation and at the same time sensitive to the voicings offered by their partner – there is not a single failed nuance or overplayed line. It's like listening to liquid flowing – the recording's generous 72 minute length is over before one expects it to be, and repeated listenings follow as naturally as one breath follows the next.
This recording is only available, as far as I know, from UMKA in Kiev (link below). For those who might be hesitant to use a credit card to order, know that their online storefront is a company based in the US that accepts PayPal, a safe and secure method of sending money that doesn't expose your credit card number to any seller. Coming from the Ukraine, with shipping, the disc is understandably a little pricey – around $35 – but well worth it. I received my order in about 12 days, much sooner than I expected. It comes in a DVD-sized digi-pack with beautiful artwork, albeit with brief notes by the composer and a moving dedication by Bohdana Pivnenko to her late husband.
Valentin Silvestrov is a treasure among composers, contemporary or otherwise – his works are imbued with a beauty that springs from the universal human spirit, singing in a wordless language that touches the soul with grace and truth…a touch we could all use.
Fleeting memories at UMKA