Agustí Fernández
Un llamp que no s'acaba mai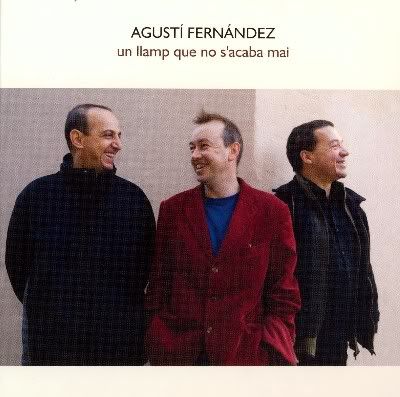 psi, 2009

Improvisation is a tricky business. It's pervasive in the jazz field, of course, most accessible in the form of improvised solos played over a structured background – it's when the familiarly constructed elements fall away (or when they're eschewed from the beginning) that mainstream listeners tend to shy away. Sometimes, even to those accustomed to experiencing free jazz improv, it can sound more like noise than music. Those musicians who can improvise together – at times, seemingly telepathically – are those whose heart and soul are connected more deeply to their art than most. Their thoughts are transmitted through their bodies to their instruments, making them an extension of themselves. Such is the case with this stunning recording.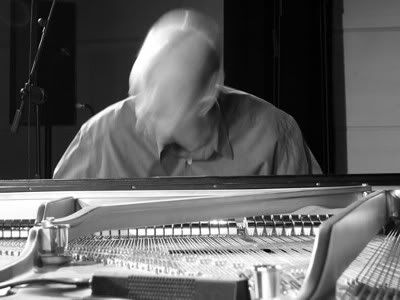 Pianist Agustí Fernández is a busy fellow – active as a professional musician since the age of 13 (he was born on Majorca in 1954), he has released dozens of albums and performed and recorded with musicians whose names read like a who's who of forward-thinking jazz, contemporary classical music, and other progressive forms – Evan Parker, Derek Bailey, Tom Cora, John Butcher, Matthew Shipp, Marilyn Crispell, Barry Guy, Mats Gustafsson, Mat Maneri…the list goes on and on. His website lists 28 albums that he has recorded as a solo, or in duo, trio or group settings, plus several collaborations. According to the biography on that website, 'his musical life changed when he discovered the music of Cecil Taylor and Iannis Xenakis, with whom he studied'. He performs widely at festivals and smaller setting concerts throughout the world.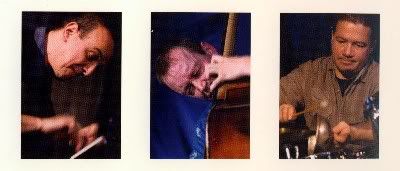 photos by César Merino, from the album cover
Un llamp que no s'acaba mai (A lightning that never ends) finds him in the company of two very able partners – John Edwards (double-bass) and Mark Sanders (drums, percussion). The album was recorded in concert, in December 2007, at Ermita de san Roque in Sigüenza, Spain – there are only four pieces, titled simply with ordinal numbers, but the shortest is just over nine minutes long, so the players have plenty of room to stretch out and develop their ideas. The disc starts out with 'Primo' – the players stake their ground gently at first…but it's not long before sounds issue forth that are coaxed from the instruments in what many listeners would consider unorthodox ways…and we're off on quite a ride through 'Secondo'. 'Tertio' and 'Quarto', one that is both stimulating and enjoyable when approached with an open mind (and ears)..

The notes accompanying the disc, by Ferran Esteve (translated from the Spanish by Steve Dept), describe the concert setting this way:

Using silence as a backdrop, Fernández, Edwards and Sanders set about unhurriedly, with calm assurance, as if they were assuming that the audience would be fully acquainted with what it braced itself to take in. At first, a gentle introduction, almost threatening, perhaps to intrigue the listeners and focus their attention, as if to remind them that the shots would be called by an incorporeal presence that was about to emerge from three altars and thanks to the craft of their respective celebrants; later on, a brutal, repetitive outbreak, almost orgiastic, which vanishes after reaching the climax, thus returning to the erstwhile menacing tunes, one of the numerous inflection points in the music that resounded that evening; and then the upright bass fired a sudden burst, or the piano, or the drums, or all three instruments simultaneously…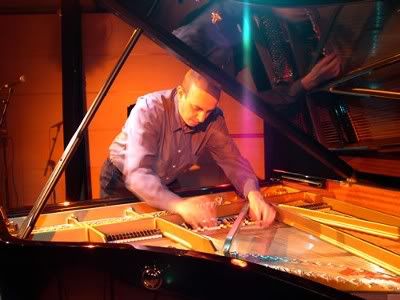 photo by Ferrán Conangla
These three are masters of their craft and of their instruments – their ideas flow together and feed off each other at an incredible level, sometimes with the precision of a school of fish that suddenly changes direction at top speed as if they were a single entity, at other times sonically bouncing off each other like ping pong balls caught up in a whirlwind. Fernández, not content to stick to the keys of the piano, sometimes reaches in to stroke, pluck or scrape the strings. Edwards expands the palette of his instrument in similar fashion, plucking, bowing, rubbing, and otherwise drawing forth tones and notes not usually associated with the double-bass. Sanders is credited only with 'drums' on the CD cover – but there's a lot more coming from him than that simple notation would indicate. All three players have complete control over an incredibly wide dynamic range, employing it as yet another tool in projecting their thoughts into the world – and the ears of the listeners. There are bursts of activity that are so dense they seem to physically fill the air – but there are also phrases and sections of jewel-like, delicate beauty…and many levels in between these two extremes are covered as well.

This is an extremely satisfying recording, one that I'm sure will reveal more of its secrets, subtleties…and beauty…with repeated listenings.

Here are three clips of the trio from YouTube, performing at the Jazz à Mulhouse festival in 2007 – they appear to have been shot from the audience, but the quality is actually pretty good for this sort of thing. They'll give you an idea of what this music sounds like…




Agustí Fernández official website (in Spanish)
Founded by the great UK saxophonist / composer / improviser Evan Parker, psi offers online ordering with very reasonable prices, a great selection of forward-thinking music