Print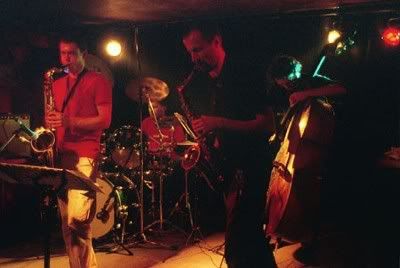 Print is a jazz quartet of French origin. It's a simple enough description, which can be expanded by listing the members and the instruments they play – tenor and soprano saxophones, acoustic bass (cello on the first album instead), drums. As is often the case with music, however, the whole is much greater than the sum of the parts – in quantity…quality…and in this case, invention, energy and creativity. These players create mind-blowing music that is firmly footed in the jazz tradition / genre, but they are not willing to be hemmed in by that label. There are elements of free jazz, be-bop, hard-bop, post-bop (any sort of bop you might care to mention, actually) – their works are, I suspect, pretty much composed, with areas of improvisation. Each member is incredibly proficient on his instrument, but aside from the fact that almost all of the compositions are by Sylvain Cathala, there are no signs of clashing egos in these three recordings – everyone seems to be committed to the sound of the band as a whole, offering up their individual parts in contribution rather than competition.

Isphero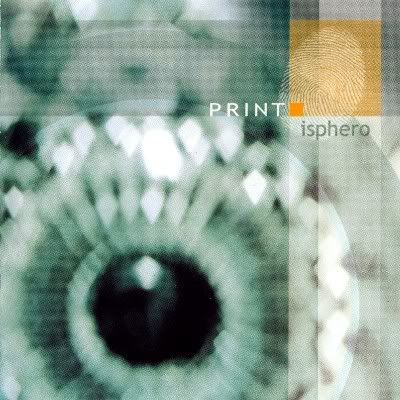 FTM, 1999

Sylvain Cathala – tenor saxophone
Stéphane Payen – alto saxophone
Jean-Yves Gratius – cello
Frank Vaillant – drums, percussion
guests :
Arnaud Vincent – guitar and prepared guitar
Ianik Tallet – drums

Recorded in late 1998 and released in 1999, Isphero is, as far as I know, their first recording – from the drum intro by Frank Vaillant, whose work is some of the best I've heard in recent years, it's immediately apparent that this music is going to be angular and energetic. As the first track progresses, and the other instruments enter, it's clear that it's going to be thoughtful as well. The two saxophones play off of and around each other like birds in the sky – moments that seem to be spontaneously improvised reveal themselves to be composed as the two players come together for some stunningly effective and beautiful harmonies and counterpoints, only to fly apart again. Everyone gets a chance to shine a bit, but not so much as to take over any composition completely. The cello is a different touch in a jazz combo, replacing the lower registers that would normally be added by a bass with its more mid-range sound – Gratius bows or plucks his instrument as the arrangements require, and does a nice job. Far from giving the impression of a band reaching for some sort of group identity (as is often the case with first efforts), Isphero presents a cohesiveness that bespeaks experience and maturity of both ideas and execution.

[a.ka] Dreams


Yolk, 2002

Sylvain Cathala – tenor saxophone
Stéphane Payen – alto saxophone
Jean-Philippe Morel – double-bass
Frank Vaillant – drums, percussion

Recorded over three years later, in 2002, Print's second album, [a.ka] Dreams, finds a slight change in personnel (Jean-Philippe Morel on double-bass replaces the cellist Jean-Yves Gratius) and a further cementing of the band's sound and personality. The time and experience of playing together as a unit is very apparent. 'Daybreak', a section of a larger piece entitled '[a.ka] Dreams part 4', kicks in solidly – the presence of the double-bass is immediately felt, giving the band's sound much more of a 'punch' than was heard on their first album. The saxophones of Cathala and Payen seem to be recorded with more body as well – part of which effect could also be attributed to their maturing chops. They solo, intertwine and spar with one another deftly – all the while backed with incredible skill by Morel and Vaillant. This 'rhythm section' is not limited to support by any means – the drums and bass figure very prominently in the overall mix, with sections featuring them in duos or solos leaving the listener with no doubt of their abilities. Vaillant is obviously using not only his skins and cymbals but every part of his kit to squeeze a mind-boggling array of percussive sounds into their appropriate spots – and Morel sounds at times as if he's rubbing the strings of his bass with his fingers / hands (as opposed to plucking or bowing them) in order to achieve a wider spectrum of sonic colours from his instrument.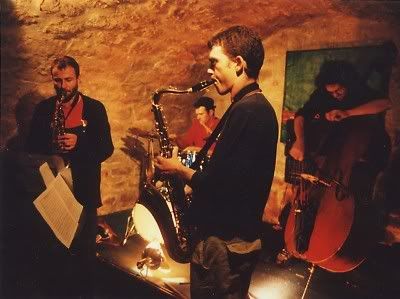 The album is made up of three suites – '[a.ka] Dreams' parts 4, 2 and 1, respectively. The music sometimes changes melodies, harmonies, rhythms and tempi suddenly, taking some or all of these elements into new territories and moods – but there is a naturalness to the compositions and arrangements that defies any characterization of purposelessness or randomness. Themes are introduced on one instrument only to be picked up by another, altered, morphed, countered and reborn, appearing on the surface of the arrangement or buried in its depths, arising again as the piece continues in the hands of another player. The ease with which all of the members command their own instrument's dynamics is breathtaking and invigorating to experience.

Here's a video of the band performing 'Full moon', from '[a.ka] Dreams part 2'…