Borah Bergman : of two minds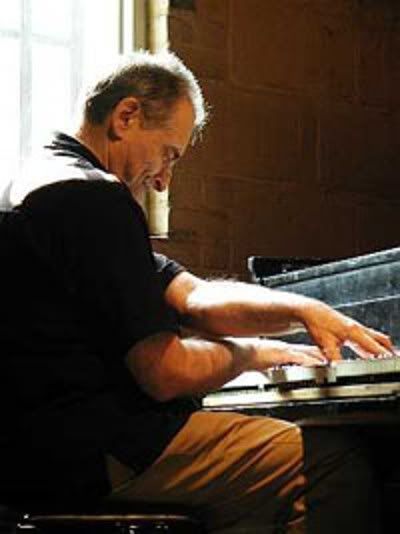 Borah Bergman's genius is nothing short of staggering. Famous for his compositional, performing and improvising abilities, which are augmented immeasurably by his incredible cross-handed technique (it's like listening to two players, or someone with two minds, as referenced above), he has long been a perfect foil for such free jazz envelope-pushers as Evan Parker, Andrew Cyrille, Lol Coxhill, Roscoe Mitchell, Oliver Lake, Peter Brötzmann…the list goes on and on. I've admired his work in these settings, but at least for my tastes, most of the time, they tend to be a little on the 'heavy' side, making my forays into them rare…in other words, I really have to be in the mood. By contrast, his last two releases on John Zorn's Tzadik label (through which Zorn is apparently out to redefine the term 'prolific', with admirable results) are two of my favorite piano-centered jazz recordings. There's a beauty to each of them that is both transcendent and transporting – but in case anyone out there thinks that translates as 'elevator music' or some sort of smarmy 'smooth jazz', they should think again. Bergman's influences come from classical music (Ives, Ravel, &c), as well as innovators from the world of jazz such as Lennie Tristano, Thelonious Monk, Bud Powell, Fats Waller and Earl Hines. Everything we experience colors our perception, some things influencing us greatly and inspiring us to reach further, to dream – applied to the creative process, whether in music or some other art, these inspirations can be a springboard to creating something entirely new. Bergman's has taken this direction – his work is unique, thoughtful and filled with a living, breathing beauty.

Meditations for piano is just that, in the purest sense of the word when applied to works of music. These are unaccompanied piano pieces, and whether they were composed ahead of time or improvised in the studio, there is a logic and structure to them that belies their seeming simplicity. It's as if the listener is being given an opportunity to peer into Bergman's creative processes – there's a feeling of 'newness' to these pieces, the notes being released into the air for the very first time. He spins out some of the most beautiful melodies I've ever heard, obviously giving great consideration to the construction of each and every track – a project like this always runs the risk of coming across as 'noodling', but never for a moment is that the case here. Each of his hands is equally adept at playing melody or support – his cross-handed work is never used as a gimmick, but as a means of extending a melodic run, or allowing one hand to switch tasks without breaking the melodic thought. Sometimes he lingers over a pair of notes, or a triad, before continuing to pursue the music's path. There are moments when a theme or part of a melody from one piece appears briefly in another – a fragment of memory, the music revealing the mental processes behind it.

Luminescence places Bergman in a trio setting, accompanied by Greg Cohen on double-bass and Kenny Wollesen on drums, with the addition of John Zorn's saxophone on one track. Even though this is a group session, with capable and thoughtful contributions from his partners, this is Bergman's recording from start to finish – Cohen and Wollesen lay back so quietly in places that it's easy to forget they're there. When they do step up, the restraint and synchronization they exhibit is breathtakingly perfect – they never overwhelm. It's as if Bergman's playing is a visible work of art for which they're providing the frame.

Anytime a musician pours forth creativity of such depth, it's inevitable that his / her cultural heritage comes into play – the nature of personal creativity, after all, precludes dishonesty, and it would be false to ignore the soul's core in bringing works of art into fruition. Bergman's Jewish roots (he dedicates Meditations for piano to his grandfather, Cantor Joseph Meir Pergamenick) can be heard throughout both of these discs – the plaintive minor melodies that almost convey audible words in their hearts – but it is on Luminescence that they're more prominent. Does that make this 'Jewish music'? I doubt that many listeners would categorize it as such – the beauty it carries is too universal in its appeal to be confined by such a definition, and neither Bergman, the music itself, nor the listener deserves to be burdened with such limitations.
One of Bergman's poems graces the back of the insert to
Meditations for piano
…
X
A boy had sat there waiting for a touch on his shoulder,
from behind, someone to surprise him,
and turning, a greeting, words, a touch and a smile.

Smiles, he had a hunger for them.
Girl smiles, they shook him,
he wanted to put his hand onto one.

How could someone touch a smile?
When the hand went along the lips and part of the face,
although the shape remained, the feeling in the smile vanished.

He had asked her once to hold her smile still
finding about the feeling then.

He wondered if this feeling had to do with the smile
coming on without a plan
– just happening.
The music on these recordings is filled with deep thought and contemplation, wrapped in the gentle, unforced beauty, the natural spontaneous grace of such a smile. It's probably as close as one could ever come to actually touching one.
Tzadik Recordings