8 films de Jean Paul Civeyrac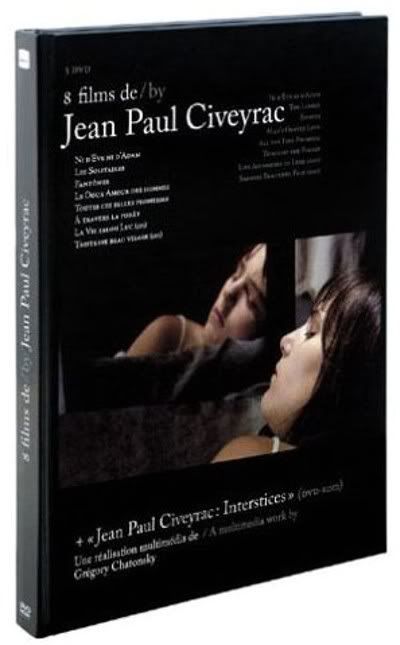 1991-2005 / France / black & white, color
French with English subtitles
DVD from BlaqOut / region 0 / PAL

'…Pauvre amour, laisse que jet e touché. Sois calme. Sois docile et fais ce que je veux. Laisse-moi caresser ta joue et tes cheveux. Laisse ma main, par cœur, apprendre ton visage.'

'…Poor love, let me touch you. Be calm. Be docile and do what I want. Let me caress your cheek and your hair. Let my hand learn your face by heart.'

– Jean Cocteau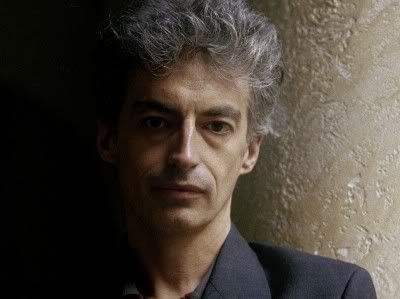 Working my way through this amazingly rich set – let alone getting my head around it enough to write anything remotely coherent and inclusive about the films contained here – has been quite a daunting task…but very enjoyable and rewarding. I had never heard of Jean Paul Civeyrac prior to reading about him online one day, when I came across articles on
Fantômes
and
Toutes ces belles promesses
on the wonderful
Strictly film school
site (click on the titles to read the individual pieces) – after a bit of further research, I discovered that BlaqOut had compiled 8 films (6 features and 2 shorts) into a very nice book-bound package, with the addition of a DVD-ROM multi-media presentation,
Jean Paul Civeyrac : interstices
, by
Grégory Chatonsky
featuring scenes from the films. All of this makes the € 80 (+ shipping, around $125 total) price tag a good bit easier to take – and after watching these films, I'm confident that my money was well-spent.
Civeyrac's films are filled with some of the most moving, beautiful imagery I've seen. Additionally, he loves available light, and utilizes movement – both by the actors and the camera – in such a way as to place the viewer intimately within the scene, creating a palpable sense of place, of inclusion. His characters are drawn large, as cinematic requirements dictate, but they are never larger than life, always remaining human – I would even describe them as 'touchable', both physically and emotionally (The lines from
Jean Cocteau
, above, are quoted on the back cover of the set – and they appropriately invoke the tactile aspects of Civeyrac's art). They take some getting to know, just as those we encounter in everyday life – there are depths to their personalities and psyches that are only revealed with time, and the director wisely refrains from laying everything out for the viewer like cards on a table. The viewer is forced, albeit it gently, to think, to consider the reasons and emotions behind the actions played out on the screen – the result is an infinitely richer, more rewarding cinematic experience. I came away from these films feeling an intense personal connection and identification with many of these characters, warts and all – the events and feelings depicted are things with which all of us can identify.
There are several themes running through Civeyrac's work – and I wouldn't for a moment claim to identify all of them. There is alienation, perhaps better described as a feeling of separation or exclusion – from society in general (
La vie selon Luc
and
Ni d'Ève ni d'Adam
), from loving relationships (
Les solitaires
,
Le doux amour des hommes
,
Toutes ces belles promesses
, and
Tristesse beau visage
), and between the living and the dead (
Les solitaires
,
Fantômes
,
Toutes ces belles promesses
again, and
À travers la forêt
). These themes are often combined, just as multiple issues in life are combined in reality. Characters often interact / communicate with departed loved ones, sometimes vividly reliving conversations and sessions of lovemaking, often to the point of deeply believing the dreams / memories are real, much to the consternation and concern of those around them. At times it's not immediately apparent to the viewer if a character is alive, dead, or a figment of the imagination, memory or subconscious – it caused me to repeat several scenes, just to savor the experience of peeling back another layer of the cinematic onion Civeyrac has so skillfully created.
La vie selon Luc (Life according to Luke)
(1991), a 14 minute short, focuses on a young bisexual hustler and his inability to feel any love or emotion for anyone around him. He stumbles headlong through life, concerned only with his own needs – amassing what seems to be a large sum of money whose purpose is never explained – lashing out at everyone who attempts to reach out to him, friends and family alike.
Ni d'Ève ni d'Adam (Neither Eve nor Adam)
(1996) is similarly concerned with a young man, Gilles, whose aggressively non-conformist behavior lands him in trouble at school, at home, and with the local authorities. Thrown out by his parents, he is shown sleeping on park benches and holed up in derelict basements, scrabbling to survive however he can manage. He convinces his friend Gabrielle to run away with him – their journey is a rushed one, both in physical distance and the emotional trials of growing up too fast. It's touching to see the bond between them develop, but sad at the same time, knowing that they are only 'playing' at independence (which they probably know subconsciously) on the road to a future that is uncertain at best.
Les solitaires (The lonely)
(1999) is centered on Pierre, in perpetual mourning for Madeleine, unable to accept the love offered by Alice (very much alive, who would be his lover) or his brother Baptiste, who comes for a visit with plenty of issues of his own. Pierre's psyche is so twisted by the depths of his sorrow that he swings wildly between states of deep depression and manic acting-out – one minute he and Baptiste are effecting an emotional reunion, the next they're arguing and fighting wildly. Alice tries desperately to lift Pierre out of his emotional pit, putting herself at risk in the process – Eva, Baptiste's estranged wife, arrives to attempt a reconciliation, adding more confusion and emotional turmoil to the mix.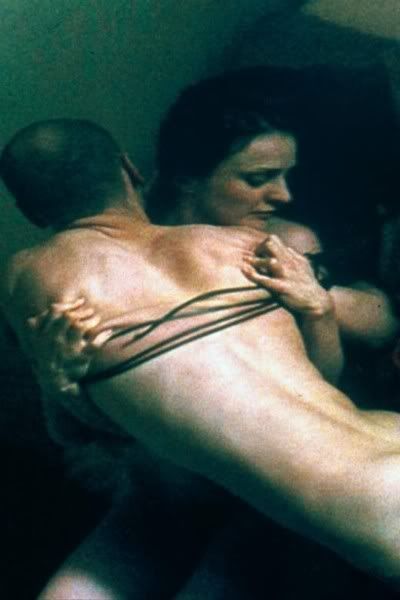 Fantômes (Spirits)
(2000) blurs the live between the living and the dead even further, with the status of characters unrevealed for long stretches. Those who have lost loved ones are tortured with grief to the point of receiving physical visitations by the departed – one woman ties her reanimated dead lover to her with a phone cord while he sleeps, desperate for him to remain with her. When he awakes and realized what she has done, he pleads with her to untie him before the sun comes up – she refuses, and he says, 'You'll die with me!' In an additional plot element, random people in the area seem to be instantaneously disappearing – no bodies are found, no traces of the missing remain, and a general atmosphere of fear covers the city.
Le doux amour des hommes (Man's gentle love)
(2001) deals with a young poet, Raoul, who is seemingly unable to emotionally commit to any woman he takes as a lover. Handsome, egotistical and aloof, he unexpectedly falls for Jeanne, a young woman who is a junkie. While he has found someone with whom he feels a connection, and the possibility of a longer commitment, she tells him, 'You do act like you love me…Don't. I'm not well and I do myself harm. I may not last the winter…Kiss me again. It'll be a nice memory.' Raoul has spent his adult life coldly pursuing any female who crosses his path and appeals to him – his lessons in love are hard to learn. In this film, as in others wherein Civeyrac deals with love and other deep emotions, there is no cheap sentimentality at work – the feelings are played out realistically, never veering into easy, sappy depictions. Even characters who are 'shallow' are fully formed to the point that one feels the ability to reach out and touch them. Despite Raoul's boorish tendencies, it's difficult not to feel some sympathy for him as events transpire.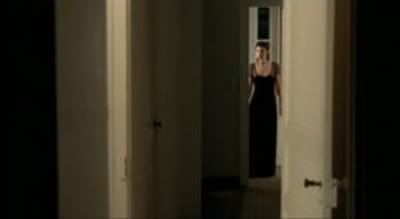 Toutes ces belles promesses (All the fine promises)
(2003) deals with many of these same elements, but in a completely individual way. Marianne is a cellist – her lover, Etienne, a violinist, dumps her for a flautist (given the personality which is revealed in him, it could be any other woman), and she experiences an emotional collapse. She begins seeing her dead parents and others from her past – memories of her childhood, her parents' parties, their life in a beautiful house by the sea, all come rushing back to her in incredibly tactile experiences. When she comes across her father's will, she discovers that he had a mistress for many years, to whom he bequeathed a few items. Her mother had understandably not fulfilled his request, so Marianne sets out to find the woman, reconnecting with the days of her childhood spent in the house by the sea. She forms an almost immediate – but not always easy – bond with the woman, and begins a reassessment of her own life and outlook. When Etienne inevitably approaches her again, she is more prepared to deal with him.
Tristesse beau visage (Sadness beautiful face)
(2004) is another short film, a retelling of the story of
Orpheus
and
Eurydice
in a modern urban French setting. Multiple layers of voice-overs are used along with spare spoken dialogue to tell the story, with characters named for the principals in the original. Once again, resistance to professed love – be it from insecurity or fear of the repetition of past experiences – directs the actions of the characters.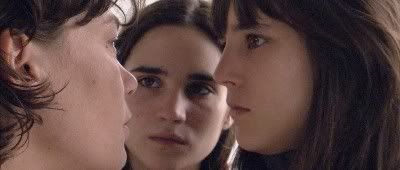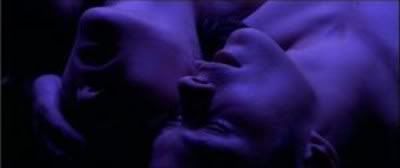 À travers la forêt (Through the forest)
(2005) centers around Armelle, one of three sisters whose lover, Renaud, has died – as in
Les solitaires
and
Fantômes
, the loss overwhelms the character. She claims to have experienced him spending the night with her, making love, talking, waking together – one sister, Roxane, believes her vision to be real, the other, Bérénice, declares it to be rubbish. Being pulled literally in several directions, Armelle finds it difficult to cope with her feelings – she goes to a medium one day, then makes an attempt to forget it and put it behind her. Nether path will lead her to heal her grief, however – and meeting a young man, Hypolite, who closely resembles the dead Renaud complicates things even further.
The synopses above are my own, and necessarily brief – and none of them comes close to doing justice to the films contained in this set. Civeyrac's vision – and his incredible skill in bringing it to fruition on the screen – must be experienced to be fully appreciated. From a purely photographical standpoint, these are some of the most breathtakingly beautiful cinematic works I've ever experienced – add to that the philosophical and emotional depth that he manages as director and writer or co-writer on all of them, and you have a pretty stunning body of work. The camerawork and lighting, in capturing the textures of the actors' bodies and skin – in lovemaking scenes as well as others – is visually arresting and incredibly effective in bringing the viewer in contact with the various characters. His use of music is noteworthy as well – from widely known classical composers to those one would not immediately associate with film scores (
John Cage
and
Giacinto Scelsi
, for example), his choices are a perfect fit, illuminating the film in their own way as much as any lighting that might be employed. These films are simply stunning in every aspect.
X


It's sad that this set – or the individual films, for that matter – are not available in the US. I would recommend without hesitation for anyone who loves great filmmaking to take the plunge and order this from BlaqOut (link below). It's a beautiful package of incredibly crafted works, and there's no telling how long it'll be available. The folks at BlaqOut have thoughtfully produced these without regional coding, so they should play on any recently-manufactured DVD player – they're presented in PAL format, but most TVs (and all computers, as far as I'm aware) will play that with no problem. I'm glad I picked it up when I did – and I know I'll be returning to it multiple times, and sharing it with as many friends as I can.