Music of the earth :
the environment as source and composition



The advent, over the last couple of decades, of a new legion of audio artists, utilizing sounds gleaned from innumerable sources, most of the time processed by means of a laptop computer or other tools, has unleashed an overwhelming amount of material on the public. Much of this work is astonishingly good – artists with a true spirit of imagination and adventure, combined with taste and judgment, have illustrated that music can come from just about anywhere. In the early stages of this movement, the sources seemed to be actual musical instruments – altered sounds from pianos, guitars, &c – but as the techniques have proliferated, along with the inspiration that is inevitably generated by practitioners of innovative techniques, the performers have reached out into the natural world for samples to be processed. Far from resulting simply in higher-resolution environmental recordings, many of these works have been stunning in their sheer musicality, shattering preconceptions held by many listeners as to what constitutes 'music'. These two recordings apply minimalist principles to this genre – and the results are nothing short of transporting.


Isobel Clouter
Rob Mullender
Myths of origin : sonic ephemera from east Asia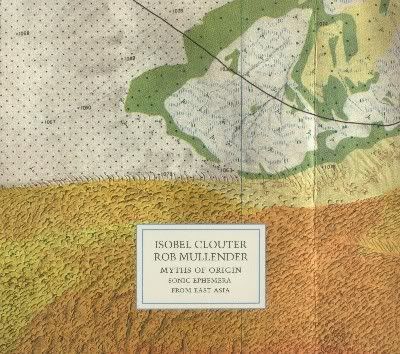 and/OAR, 2008 (rec. 2001)

Myths of origin is based on recordings made by Clouter at various locations in Japan (tracks 01-03 on the disc), and by Clouter and Mullender in China (tracks 04-09). The Japanese sources include sounds recorded at festivals, in temples, an uguisubari-no-roka (a 'nightingale floor' that makes bird-like chirping sounds when walked upon), a suikinkutsu (which makes a beautiful, natural music generated by water falling into an underground chamber, a feature of many Japanese gardens), and 'singing sand' on various beaches. These have been edited by the artists, but with little audio alteration beyond combining them into the three separate tracks.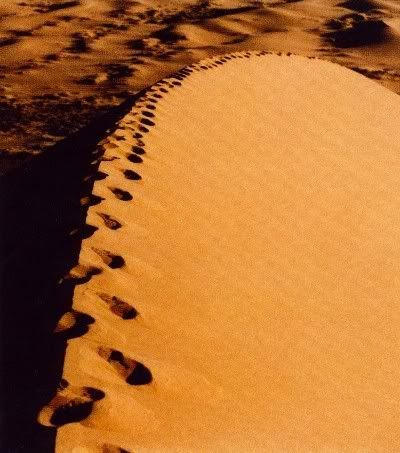 The recordings made in China were mostly captured in desert environments, featuring the phenomenon known as 'booming sand', whereby the dunes, triggered by the winds and other natural forces, produce sounds on their own, without interference or instigation of human actions. These sounds have been extremely hard to record over the years – most of the source material on this disc featuring them is of sounds resulting in sandslides created by the artists, or by footsteps on the dunes. Track 09, which ends the disc, was recorded in a temple, and features the sounds of prayer wheels being turned by visitors.

Clouter and Mullender – as well as other 'musical anthropologists' – theorize that the natural sounds of the earth have at times through history influenced music made by humans. They cite Mongolian höömi (overtone) singing as an example, which, according to local legends, has a 'myth of origin' that describes a relationship between environmental sounds and music. The notes state that the sounds gathered in China are unprocessed, edited only by selection. The low frequency drones produced by the sands are incredible – one can only imagine being there in person and actually feeling the sound in the air and through the dunes.

The artists offer informative notes in the booklet, as well as some nice photographs – the disc itself also includes a PDF booklet with photographs relating to the recordings, compatible with both Windows and Mac systems.


Francisco López
Wind [Patagonia]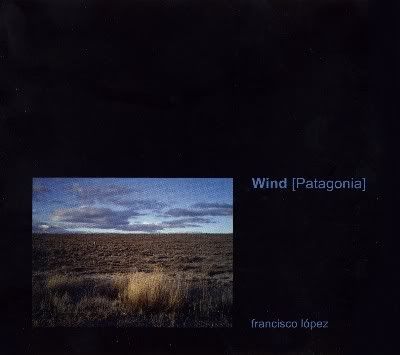 and/OAR, 2007 (recorded 2000-03, composed and mastered 2003-05)

Wind [Patagonia] is actually the third installment in a trilogy by López – the first two were La selva (1997), which was recorded in a Costa Rican rain forest, and Buildings (2001), featuring the inner sounds generated by buildings in New York City. With Wind, López illustrates the amazing breadth of sounds produced by the wind's interaction with the harsh landscape. The notes on the back of the digipack describe the recording as 'an immersion into the sonic matter from micro- and macro-environments dominated by wind in Patagonia. A vast barren space shaped and inhabited by the ever-changing forces of unmated plants, rocks, sand, snow, and ice. An irregular broad-band environment of relentless strength and richness. And above all, a tour de force of profound listening.' This might be dismissed as hype – but listening to this disc for the first time, I was completely overcome and carried away by the variety of sounds generated by the wind – it's an immersing experience of a depth that must be heard to be understood.

An artist known for his imagination and abilities in the subtle alteration of sounds, López states that this recording is 'non-processed, not mixed environmental sound matter from a certain "reality". An appraisal of the richness and essential qualities of the original sonic material. A non-referential intention. An extreme phenomenological immersion led by anti-rationality and anti-purposefulness. A world devoid of human presence.' The temptation is to pre-suppose this recording to be one of those 'relaxing' natural sounds experiences – but there is unimaginable power and strength at work here, producing an incredibly wide dynamic range of the purest form of 'natural music'. These are the sounds of our planet, a living, breathing world – it's a good way to put the presence and influence of human life in perspective.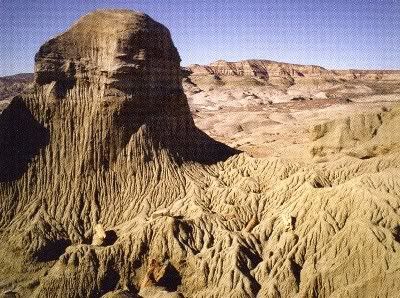 The booklet contains several beautiful photographs (above is one example) taken in the region where the recordings were made, which illustrate the wide range of physical features found there. There are also notes by López and a nice essay by Christopher Cox, who writes, 'López's Patagonian winds have a ferocious beauty and immensity. Delicate whispers combine with wild swarms and eddies undergirded by deep bass punches. And all of this produced by an invisible force that endlessly sweeps the surfaces of the globe. With this, we are no longer in the tidy world of human music, but have entered the sublime domain of natural sound.' It makes for some pretty incredible listening.


I found both of these recordings at the label website – and/OAR is a great source for the adventurous audiophile, making available not only releases on their own label, but a wide variety of like-minded experimental, envelope-pushing, mind-stretching works from other sources as well. Click on the link below and browse their selection – it's a rich trove.

and/OAR