Eleni Karaindrou
Elegy of the uprooting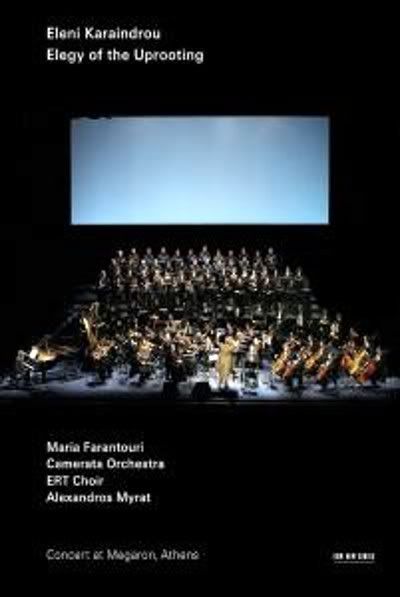 ECM DVD release, 2008
artistic direction by Manfred Eicher

ECM's DVD presentation of the 2005 concert in Athens of the music composed by Eleni Karaindrou for various films and stage productions is without a doubt one of the finest live music videos I've ever seen. As expected (for anyone even remotely acquainted with ECM's production standards), the audio is first rate – clear and full, precisely mixed and balanced. The video was shot with several cameras, absolutely perfect and appropriate lighting, then edited and produced with incredible sensitivity to the music and the performers. Soloists are shown at just the right moments, and at times split-screen technology is employed with taste and skill to depict the individual artists as well as the group as a whole. The performers include the Camerata Orchestra, the ERT Choir, an ensemble of traditional instruments (harp, Constantinople lyre, ney, kanonaki, santouri, bendir and daouli), the great Maria Farantouri (a Greek national treasure in her own right) and the composer herself on piano – all conducted masterfully by Alexandros Myrat, filmed at the beautiful Megaron (Hall of the Friends of Music) in Athens in March of 2005.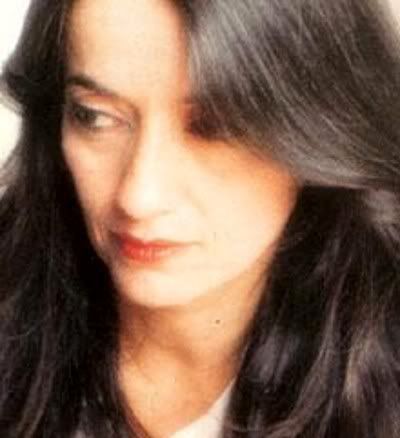 I've already written about the music performed here – it was released as a double CD by ECM in 2006. Far from being superfluous, the DVD release enriches the experience for the viewer. I think it's safe to say that anyone who has ever seen one of Theo Angelopoulos' wonderful films, most of which are graced by Eleni's music, could not help but be touched by the scores. Angelopoulos has said that he cannot imagine his films without her contributions – high praise indeed from a director of his stature. You can read my thoughts on the CD release here. I cannot recommend this DVD highly enough – as I watched it, the hour and forty-five minutes of its length slipped past with the grace of a flowing river, and was over before I knew it. There is a deep melancholy, but it is an achingly beautiful one that brings joy as well as sadness to the listener / viewer.

I hope ECM expands their wonderful work further into the area of DVDs – the quality we've come to expect from them in their audio releases is here in all its glory, and I can think of literally dozens of their artists whose performances I'd love to see, after enjoying listening to them for many years.