Alexandra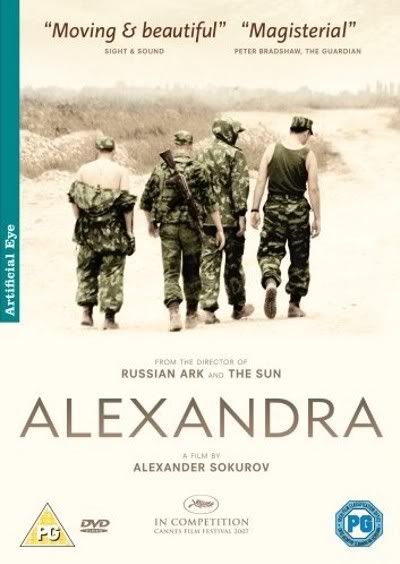 written and directed by Aleksandr Sokurov
2007 / color / 90 minutes (plus bonus items)
Russian with English subtitles
DVD from Artificial Eye (UK – region 2, PAL)

Aleksandr Sokurov's latest film has been labeled by many reviewers as his most political film in years, possibly of his career – while it has political implications, it also falls comfortably within a group of his works that have been called 'family portraits', which include Mother and son (1996) and Father and son (2003), among which The second circle (1990) could also conceivably be placed, although in the latter case, one of the family members is deceased. In Alexandra, the title character (portrayed with screen-filling natural realism by the great Russian opera star Galina Vishnevskaya) travels to a remote army base in Chechnya to visit her grandson, an officer, whom she hasn't seen in seven years. Her husband has died, she is well into her senior years, and she obviously feels the need to reconnect with family. The trip is arduous under any circumstances, and especially difficult for a person of her age – she makes the journey by armored train, among soldiers, and in an armored personnel carrier, arriving at the camp expected by those in charge to find her grandson away on maneuvers. The area is windy and dusty, and the temperature in the daylight hours is oppressive – she remarks often that it is 'stifling'. Her grandson Denis returns from his assignment and welcomes her – but rather than telling a story on a completely personal, one-on-one level, Sokurov instead skillfully uses Vishnevskaya's amazing and robust natural personality to give the viewer an eye with which to view not just the immediate physical surroundings, but the very central essence of war itself and the effects it inevitably inflicts upon humankind.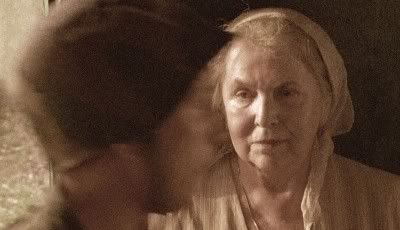 Alexandra spends much of her time wandering about the camp, speaking with soldiers ('You're so young', she comments to one – but everywhere she looks she sees conscripts barely out of their teens), observing and reflecting. Vishnevskaya is masterful in her role – she communicates more by her facial expression and tone of voice than most actors could manage with a long soliloquy. The things she sees trouble her to her soul – you can see it in her eyes, in the lines on her face. At one point, her grandson helps her into a tank – inside, he shows her his rifle, which she holds while he instructs her on how to use the sight. She looks down the barrel and squeezes the trigger of the empty weapon – 'It's so easy', she murmurs. When the camp commander gives her a short tour and attempts to explain their mission, she says 'You can kill – but can you rebuild?' Admonished to stay in her quarters and rest, she walks to the sentry gate and sits with the guards, learning about them, about their lives. Determined to walk into the nearby village to the market, she wanders among the stalls looking for cigarettes and biscuits to take back to the camp – when she grows weary, a Chechnyan woman invites her to sit with her, then to her apartment nearby, in a building that appears to be on the verge of collapse due to damage from shelling. Inside, they share some tea and conversation, completely at ease with each other as human beings instead of members of opposing sides in an armed conflict. When Alexandra leaves to return to the camp, she exacts a promise from her host to come and visit her in Russia – they both know the unlikelihood of the vow being kept, but they are satisfied with their agreement, as they should be. They have made contact with each other on the basis of their shared humanity, of their womanhood – none of the politics involved in the conflict raging around them matters in this light.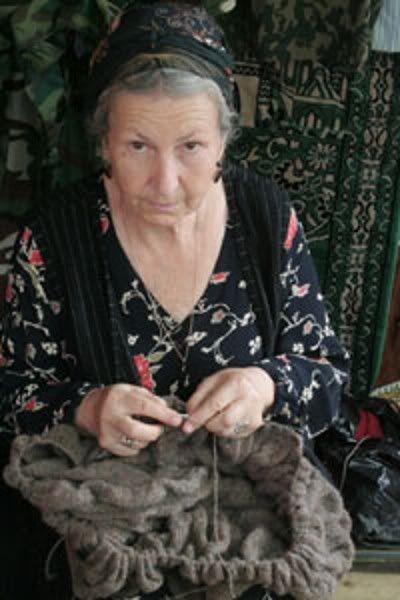 This struggle of humanitarian versus political values lies at the very heart of Sokurov's conception of the film. In an interview included on the Artificial Eye DVD release, he lays out his personal philosophical indictment of the warlike nature of civilization:

The most important thing is that the essence of war since the first conflict has not changed, because the goal of war is to kill, to win by means of killing…every (great civilization) made their history…by means of killing. You see, the cynicism has gone to the point that…when the victory happens, it doesn't matter at what price. But the moral amendment, that the victims were too numerous, annuls, removes the very subject of victory…This is an egoism of the survivors. They say, 'Yes, yes, we won, our country is living, our cities are living, yes.' However, there are hundreds of thousands lying in the fields. 'But they gave their lives for the great victory.' This is said by the living. And are those victims, those lambs, those millions, thinking about that? This is a very complicated thing, and modern civilization fails to realise it. So, if we say, 'We lost all those people, but we won,' will this raise the lost from their graves? Does that change anything? This changes nothing. This changes nothing.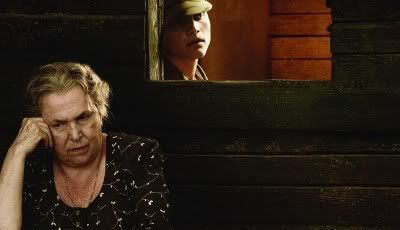 Choosing Galina Vishnevskaya for this role was an inspirational stroke of genius on the part of the director. Again from the included interview, Sokurov says:

I was greatly impressed by her dramatic talent, the personality, the scale of her personality…she is a great singer, a great opera actress, a great citizen of Russia, one of the world's outstanding personalities, so it was necessary to understand if she needed this film at all…I wrote this script especially for her, so, if she hadn't been able to play in this film, it probably wouldn't have ever been shot.

Her personality indeed fills the screen and the film, but purposefully so – the Vishnevskaya's own life experiences, her strength and her wisdom, give life to Alexandra in such a way as to make the film almost seem like a documentary about the character.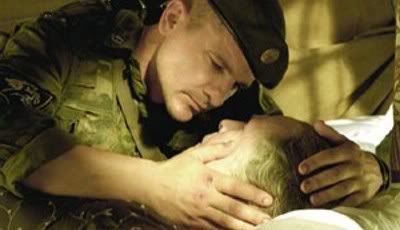 I've read reviews that note that the film doesn't 'look' like a Sokurov creation, that the incredibly beautiful, painter-like shots which the public has come to expect from him are few and far between in this effort – but war is not a beautiful thing, and in the case of dealing with such a subject, some bleakness and harshness is required. There are still amazingly beautiful shots in the film – Alexandra sitting inside a tent at the army base, with a young soldier peering in through a flap; shots of her face on the train, looking at the young soldiers around her, wondering how many of them will live to see their families again; the tenderness with which Denis cradles his grandmother in his arms, the bond of love between the two of them so palpable; the face of the Chechnyan woman who welcomes Alexandra into her home, the connection between the two of them, and the pain of the events unfolding around them written there so plainly.

X
Alexandra will no doubt eventually be released on DVD in the US – I hope that his reputation, which has justifiably over the past few years, will compel as many people as possible to experience this film. It stands steadfastly with his other works, equal in quality and artistry, a strong condemnation of the senselessness of war. Again, in his own words:

…among the high and mighty they are very rare – the people that rate humanitarian values higher than political values. I think that all politicians all over the world, from the beginning of the 20th century, rate political values higher than humanitarian values, which is a crime…This is impossible. This is a dead-end. This is murder. This is terrorism…terrorism is a consequence of the fact that political values are put above humanitarian values.