Pierre de Bethmann
Oui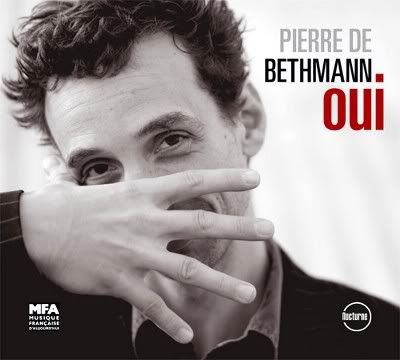 Nocturne, 2007

Pierre de Bethmann is a recent discovery for me – but like most jazz players who impress me, I've found that he's been around for a few years, playing in various contexts stretching back, per the discography info on his website, to 1995. That list shows nineteen appearances as a sideman for assorted artists (including separate releases by two bandmembers, David El Malek and Michael Felberbaum), four as a member of the trio Prysm, and three with his current band (expanded from a quintet on their first two albums to a septet for Oui). With the formation of his current group, he moved more firmly into Rhodes territory, exploring and expanding the sound of the instrument, sculpting a personal expression from its possibilities with his formidable talents. I was listening to Oui the other morning while I was talking with a friend on the phone – I had to put the receiver down for a moment to tend something in the oven, and when I came back, he asked me, 'Man, who's that working on that Fender…?' The style that de Bethmann has developed over his career is one that's going to grab the attention of anyone who hears him – he's moving the instrument into new territory both rhythmically and melodically.



Five members of Pierre's group have graced all three of his albums – the mutual respect and empathy they share are immediately evident in the results. David El Malek is incredibly fluid on tenor saxophone, capable of swoops and arcs of notes that could induce whiplash in the listener. Michael Felberbaum's guitar goes from beautiful chordal background work to chopping rhythmic urges to blistering solos and back again with seemingly effortless (anyone who plays an instrument knows better!) changes of focus and gear. The double-bass work of Vincent Artaud and drums of Franck Agulhon provide an invaluable steady foundation for the group, but like the great players they are, they're not content to limit themselves, illustrating time and again that they not only have the constantly changing rhythms firmly in hand, but that their imaginations are working to add accents, counterpoints and fills to complement the work of the others as well. New members for this outing are Stéphane Guillaume, an excellent alto saxophone player, adding a nice balance / foil to David El Malek's tenor; and Jeanne Added, whose wordless vocals are every bit as integral an instrument as the ones wielded by the others. Singing at times in unison with Pierre's keys, or with the guitar or reeds, or providing a melodic or rhythmic counterpoint, her tonal control is about as perfect as one could imagine.

The set starts off with a vengeance, Pierre's Rhodes setting the pace on 'Shema' with a repetitive 7/8 figure, joined after a few bars by the rest of the group. The vocals, reeds and guitar play off each other a bit before the piece slows down a bit – after a section of voice-alto interplay, Pierre's Rhodes enters for a length extrapolation, leaving no doubt in the listener's mind as to not only his compositional imagination, but the magic with which that extends into his playing. Listening closely, it's easy to imagine someone thinking there are two keyboards working – he's gifted with a high degree of ambidexterity, one hand delivering chordal clusters while the other explores the melody with breathtaking freedom and grace. This piece goes on for almost ten minutes – but it never drags, and the first time I heard it, I was surprised at the end that it had been going as long as it had. For that matter, there's only one track of the CD that's under six minutes long – and thanks to the constantly changing melodic landscape, wide dynamic range and fluid interplay between the participants, there's not a wasted note to be found anywhere.

'Singulier', the second track, enters with a rolling chromatic figure from the Rhodes, joined soon by Jeanne Added's beautiful vocals – the two instruments intertwine their melodies in an almost mesmerizing spiral until Agulhon's drums and Artaud's double-bass solidify the rhythmic element. Reeds and guitar accentuate the determined beat for a moment, before the tune shifts down again, with Jeanne's voice this time alongside some lovely guitar work from Felberbaum. Focus shifts repeatedly, rhythm reasserts itself, with some very nice, more forceful lead playing from the guitar toward the end of the piece. The third offering, 'Air courbe', begins with quiet alternating chords from de Bethmann, soon joined by the voice carrying the lead, with the others alternately providing support, accents, and comments of their own.

The set is extremely varied overall, with no one rhythm or colour dominating for very long. Melodies are never sacrificed in the process, providing a great deal of beauty for the ears – but at the same time, these folks never settle for simply making 'pretty music'. There's a lot of fire and imagination at work here, with some envelope-pushing time changes and more than a few angular melody tangents – at times it almost sounds as if there are two signatures being employed simultaneously by 'sub-committees' within the band, with the rhythms coming around after a bit to re-join, rather like the polyrhythms heard in some African music.


This is pretty amazing stuff, folks – and like many 'discoveries', a little research shows me that there's a pretty deep well here from which to draw. The interactive discography on Pierre de Bethmann's website reveals a money pit of extreme proportions (I loves my music, so...) – but that's often the case with jazz players, given their propensity to perform widely with other artists, offering their services in whatever form can be creatively rewarding for all concerned. The nine tracks on Oui alone tell me that I've found a new favorite here – I've already come across a couple of Prism CDs online at prices so low that I couldn't pass up ordering them, and I've added some others to a wish list that seems to grow much faster than I can reduce it (how many years has that been going on…?). The more 'new' (meaning, 'new to me') players that I discover, the more comforted I am that creativity will always find a way to be heard (or seen, or read, or experienced in whatever medium it's found) – and in our world, it's always a nice feeling to be reassured.

Check out his website – you can listen to audio samples from all four Prysm albums as well as his three latest releases. Also – visit out the site's 'video' section, with some really high-quality offerings to enjoy.


Pierre de Bethmann – official website