Paolo Fresu Devil Quartet
Stanley music!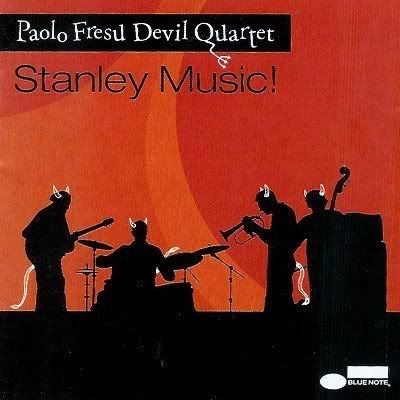 This album is a great example of a 'perfect storm' – four contemporary masters from the Italian / European jazz scene, who have played together before in various contexts, come together in a quartet to create music that is a living example of the old adage 'The whole is greater than the sum of the parts'. It's nothing short of stunning. (I have absolutely no idea about the meaning of the title, in case you might wonder...)

Paolo Fresu (trumpet, flugelhorn), under whose name the quartet operates, has long been a favorite of mine. As with most fine jazz players, he's incredibly prolific, lending his talents to innumerable projects and configurations as a leader, co-leader or sideman – in every case he adds more than a little shine to the finished product. I can't even remember where I first heard his work – but seeing his name on a recording is a sure sign of quality playing and compositional innovation. I've read that when he appeared at a jazz festival in Europe in the early 1980s as a relatively unknown player, the great Italian trumpeter Enrico Rava heard him and recognized that the future of jazz was in good hands. Fresu's tone and control are absolutely amazing – coupled with the taste and sense of commitment that he displays in every outing, he's definitely a force with which the music public will find itself reckoning again and again, producing a body of work that will reveal new gems with every dig.

Bebo Ferra is one of the finest guitarists I've heard – most of the recordings on which I've experienced his talent have showcased his work on acoustic or classical guitar. While there are moments of that beauty here as well, on this album he steps up on electric guitar and guitar synthesizer, issuing forth veritable lightning bolts of melodic energy that the listener might swear leave behind traces of brimstone in the air (perhaps one aspect of the quartet name…?). Never sacrificing melody or harmony for power, his guitar lines both lead the group and offer thoughtful support for the work of the others, shifting from fore to aft effortlessly with a grace that comes from a deep dedication to the music rather than any attempt to take control or show off.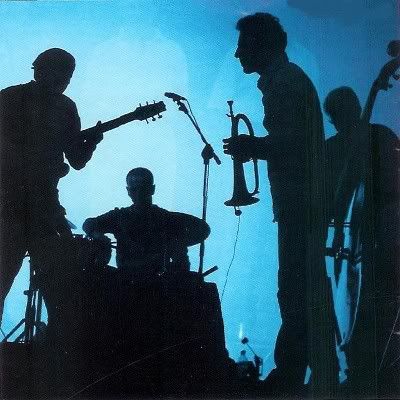 In addition to their main instruments, Fresu and Ferra are credited with 'multi-effects' – the notes in the CD booklet don't elaborate further, but beyond the numerous abilities of the guitar synthesizer, I suspect Fresu is utilizing a harmonizer of some sort with his horn. There are audible lines generated that on a casual listen might seem to be overdubs – on closer listening, they seem incredibly in-sync to my ears, leading me to suspect that they're being produced 'live' as he plays. Rather than coming across as 'gimmicky' in any way, Fresu's sense of restraint remains in control throughout the album – he never over-does the effect, using it to achieve fine results that add immeasurably to the mood and quality of the set. Similarly, at times I seem to detect lines played simultaneously by Fresu and Ferra that are pretty amazing – it's the sort of near-telepathic communication between great musicians that comes from deep empathy and a unity of spirit.

Paolino Dalla Porta's talents on the double-bass extend far beyond the limits too often imposed on the instrument – and thankfully, there are more and more players stepping outside the 'rhythm section' box in this regard. A fine composer in his own right, contributing two tunes to this set, Dallo Porta explores the entire tonal and dynamic ranges of the instrument, providing a firm foundation constantly, while providing contrapuntal / harmonic lines to Fresu and Ferra in such a smooth manner that one might be forgiven for realizing that so much of the music is coming from the double-bass.

The drums, handled here by the great Stefano Bognoli, are every bit as dynamically and sensitively nuanced as the other instruments – the beat is steady, to be sure, but Bognoli's accents, fills and what could only be described as comments or conversation are breathtakingly precise and ear-opening.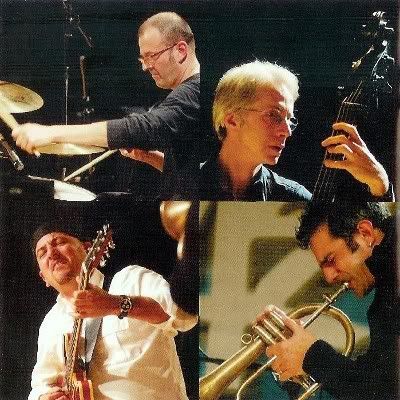 The set opens with 'Another road to Timbuctu', jumping right in with a horn riff to which the melody returns after forays into melodic exploration from Fresu and Ferra – this is a driving tune, never letting up until the final notes, a great way to get things started. 'Il tempo del sogno', composed by Paolino Dalla Porta', follows – it's a beautiful, leisurely paced excursion that affords the listeners a chance to catch their breath, featuring restrained, lovely lines from Fresu, Dalla Porta and Ferra (some of his most jewel-like classical guitar work). Bognoli's light drum / cymbal work on this tune is a great example of his abilities – it's a talented drummer who can provide such delicate support without succumbing to the temptation to be heavy-handed. 'Caledonian flowers' features a bluesy melody line that both Fresu and Ferra explore to the fullest – the melody takes some surprising twists and turns, but never drifts into atonality. Fresu's work with a mute is particularly effective on this track.

'Moto perpetuo' has an Iberian colour to it – now and then I can hear what I'm sure must be a conscious nod to Chick Corea's classic composition 'Spain' (from Return to Forever's 1972 Light as a feather), but it's certainly an example of hommage rather than being derivative. The pace slows down again with the first of Bebo Ferra's compositions to appear in the programme, 'Giovedi' – his acoustic guitar and Fresu's trumpet play off each other beautifully, framing a melody that is melancholic and uplifting at the same time. Next up is 'Dou Dou', from the pen of drummer Bognoli – and if any listener believes that a composition by a drummer is automatically going to be built around percussion, let them immerse themselves in this piece. The other three instrumentalists figure so prominently in the delivery that it would be easy to guess that any one of them might have written it – it's simply lovely, a great addition to the set. Bognoli's drums are showcased in a nice, varied, brief solo to open the next track, a medley of 'Devil's game' (by Dalla Porta) and 'Labbra bianche' (by Fresu) – two tunes joined at the hip that pick up the pace again very nicely. The first, after Bognoli's introduction, features some near-free blowing that congeals into melody and takes off without looking back.

Fresu's 'L'afflato prodromo del misantropo' has an almost anthem-like quality to it – the pace is slow, but without any sense of inactivity from any of the members, offering up a nice balance to the previous track. Some nice chording from Dalla Porta opens 'Il diavolo e l'acquasanta', another Bognoli composition – Fresu and Ferra trade lines over Dalla Porta, who gives the piece a palpable 'noir' feel until he opens up with a more walking pattern with a slight melody change. 'Qualche anno dopo (Some year after)', from Ferra, ends the tracklist – the tune has an almost hymn-like quality to it, perhaps more of a sense of reflection (hence the title). Fresu and Ferra weave in and out of each other, trading lines seemingly without much free improvisation, sticking to the beautiful melody without ever growing repetitive – another sign of great players. There's a 'ghost track' included as well, following a bit of silence – a little online research led me to be confident that the title is 'Cartoons' – and the mood of the piece fits that very well, ending the set with both invention and humor.

Here's a bit of video from YouTube featuring the quartet at the 2006 Umbria Jazz festival in Orvieto – it was apparently shot from the audience, so the quality isn't exactly first-rate, but it's not bad…

Stanley music! is one of those recordings that I initially heard via some samples online – I was so impressed with those brief excerpts that I immediately found a source for it and ordered a copy. When it arrived, it stayed in my player – and in my head – for several days. I've returned to it several times since then, always finding nuances revealed that I missed on previous hearings – a sure sign of a work of lasting quality. I think it's safe to say that anyone who loves jazz – hell, anyone who loves good music in general, even those who might think they don't enjoy jazz – would appreciate the quality of this recording. Why Paolo Fresu isn't more widely known and appreciated in the US is a mystery – the labels who have issued his works are missing the boat here. These musicians are all players whose talents ensure the continued viability and vitality of not just jazz, but music of all genres.


Paolo Fresu official website