Stephan Micus
Snow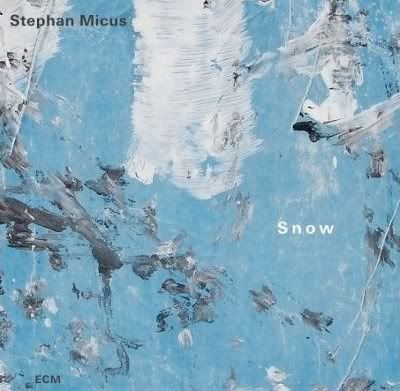 ECM Records, 2008

What the sky is made of I do not know –
sometimes it is made of dancing snow.
– Rose Tremain (quoted in the CD booklet)

Every time a new release from Stephan Micus reaches my grateful ears, I find myself reaching for superlatives with which to describe the magic he performs – but in the end, of course, words fall far short. I've been listening to his work since the release of his first album, Archaic concerts, in 1976, hooked happily from the beginning. Few people who know me have 'escaped' the experience of sharing one of his recordings with me – I have no idea how many times I've uttered the words 'You've got to hear this…!' in relation to his music. His art is something that never fails to touch my heart and soul at the deepest level – and unlike many things that come and go with moods and other variables, the echoes remain. Now and then, I find myself humming a melody, or simply listening to it play out in my mind, only to realise that its source is some Stephan Micus release, recent or otherwise.

Unlike too many performers who gather instruments from around the world and weave the various sounds into their own personal audio fabric, Stephan's compositions / constructions seem to possess a spirit that goes far deeper than 'simple sound'. He combines instruments from far-flung locales which would likely never be heard together were it not for his imagination. The musical paintings he conjures from his palette never ring false or sound forced – it's as if the listener were sitting in on a gentle, natural conversation between cultures. The best aspects of each are intermingled, yet preserved – even when one instrument holds sway over another, it's a brief dominance and not an overbearing one. The respect with which Stephan holds the music of the traditions he has touched in his musical travels passes from his heart through the instruments in the form of something that is ancient and new at the same time, eternally being reborn.

Snow is Stephan's 20th album since 1976 – all but two of them have been released on Manfred Eicher's ECM Records or on its affiliated label, JAPO. Each one has its own personality, array of employed instruments, and themes – but they're all distinctly Stephan Micus creations. Instruments on this new release include duduk (a double-reed instrument from Armenia, this particular one being specially made for him to play in a lower register than the standard model); doussn' gouni (a harp from West Africa with gut and nylon strings); maung (a set of 40 tuned gongs from Burma); Bavarian zither (utilising his own tuning and strings); steel-string guitar; sinding (another West African harp, this one with cotton strings); hammered dulcimer; nay (an Egyptian hollow reed flute, used extensively in Middle Eastern and North African music); and charango (a small guitar-like instrument from the Andes with 5 pairs of strings), which is a new addition to Stephan's sound.

The pieces on Snow, like all of Stephan's works, are constructed and performed with great thought – rather than attempting to reproduce the music of the various cultures from which he draws his tools, Stephan groups them together in ways that create a new musical language, but without turning his back on the sources that have inspired him. On the ECM website, he says, of the album's title, 'To me, snow is one of the most beautiful of all natural phenomena. It's closely associated with lasting impressions of my original home in Bavaria, especially the long moonlit walks I used to take when I lived in the Alpine foothills. I've always regarded snow as the essence of magic, even more so today, now that there's so little of it and the glaciers are disappearing.' Impressions of the beauty and majesty of nature abound in his work, as well as the love and respect he so obviously feels for the people and cultures he has encountered. He goes on to speak about the instruments themselves, and how he feels drawn to employ them: 'I feel strong ties to the sound of these age-old instruments. To me they lie somewhere on the border between an object and a living being, between a thing and a person. Sometimes I actually think of them as sentient beings. You have to listen to what they want to say. When you do, you connect almost automatically with their traditional idiom. To me, it's important not to adopt any pre-existing melodies, or even fragments of them, but to develop a language of my own.'

Some selections feature several instruments, utilising the overdubbing techniques available in the modern studio with great taste and sensitivity – at times a single 'voice' is enough, the perfect setting for the ideas and images he wants to convey. Now and then, he adds his own voice to the mix, with wonderful results. On this recording, it's done in groupings of 22, 11 and 15, on three selections – sometimes the effect is that of a choir, other times in a call-and-response setting.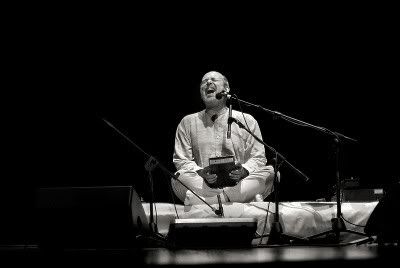 Stephan Micus performing in Portugal (photo by Filipe Palha)

'Snow', the title track which opens this set, features 2 doussn' gouni, a duduk and an array of percussion. The beauty deepens with 'Midnight sea', in which a duduk soars in and out of the sound of the zither. Stephan's gentle plucking on the strings of the sinding open 'Sara', then his solo voice enters, soon joined by harmonies – he's said that the words he sings 'have no known meaning', indicating that they're not in any given language, but spring from a universal voice within him…but it's hard not to hear or imagine meaning in them. 'Nordic light' is a lovely charango solo – the notes on the ECM website refer to it as an improvisation, which makes it even more amazing for its breathtaking beauty. 'Almond eyes' features 11 voices, accompanied by a steel-string guitar and percussion. The duduk and the doussn' gouni return for 'Madre', along with maung and other percussion. 'For Ceren and Halil', the palette is expanded a bit after a opening charango solo – Stephan brings 8 charangos, duduk, nay, sinding and 5 hammered dulcimers into play, arranged and played with such grace that it never sounds 'crowded' in the least. The album ends with the beautiful 'Brother eagle', featuring some incredibly beautiful playing on the bass duduk (the rich tones of which will likely rattle your speakers, but in a good way), as well as 2 sinding and 15 voices.

Every single track on this disc is a treasure – the titles are listed as 'parts' of the entire album, a usual practice for Stephan, and it's very easy to hear them as a whole…it's as seamless as a breath, and equally natural. His music can be strongly rhythmical, like a pulse, without ever being 'pounding'…it can be as ethereal and diaphanous as a cloud over a mountain…it can be as deep and mysterious as the sea…it can evoke an image so crystalline that it could be a photograph…it can conjure a memory that is so enveloped in mist that it seems to be from another life. His music is eternity…it is very much the present at the same time – and aren't those extremes, and everything in between, contained in each and every one of us? His music is as universal as music can be – if it's something you've never experienced, I can't recommend it highly enough. I've often said that if I had to choose the music of just one artist in my entire collection to keep for the rest of my life, it would be the work of Stephan Micus, without hesitation.

Stephan's catalogue:

1976 Archaic concerts (Caroline Records, 1976 [LP]; never released on CD)
1977 Implosions (JAPO, 1977)
1977 Koan (ECM, 1981)
1978 Till the end of time (JAPO, 1978)
1978 Behind eleven deserts (Wind Records, 1978 [LP]; Verabra Records, 1990 [CD])
1981 Wings over water (JAPO, 1982)
1980-1983 Listen to the rain (JAPO, 1983)
1985 East of the night (JAPO, 1985)
1986 Ocean (ECM, 1986)
1987 Twilight fields (ECM, 1987)
1989 The music of stones (ECM, 1989)
1990 Darkness and light (ECM, 1990)
1992 To the evening child (ECM, 1992)
1993-1994 Athos (ECM, 1994)
1995-1996 The garden of mirrors (ECM,1997)
1997-2000 Desert poems (ECM, 2001)
1999-2001 Towards the wind (ECM, 2002)
2001-2004 Life (ECM, 2004)
2003-2006 On the wing (ECM, 2006)
2004-2008 Snow (ECM, 2008)