Ivor Cutler :
Looking for truth with a pin
directed by Peter Spencer
2006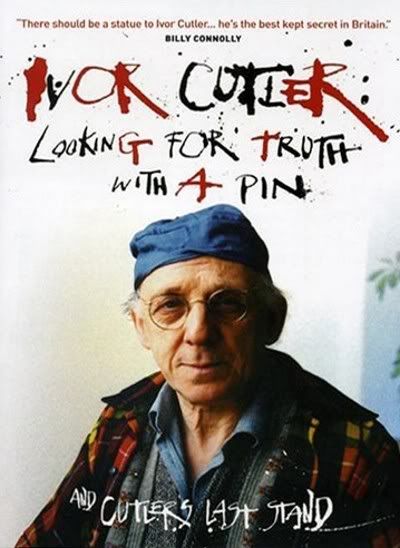 What can one say about Ivor Cutler that needn't be said...? He was truly a man of many hats – quite literally, as you'll see when you (hopefully) watch this incredible documentary – poet, musician, artist, author of children's stories, teacher...and an inspiration to many. It would take a stony soul indeed not to be at least slightly touched by his gentle, whimsical view of his world.

Among the folks reminiscing about Ivor's work and his effect on their lives are Paul McCartney (who had heard Ivor and asked him to appear as Buster Bloodvessel in the Beatles' Magical mystery tour film), Billy Connolly, Phyllis King (Ivor's life partner for 30 years or so), Neil Innes, Robert Wyatt, Alfreda Benge, Peter Brown, Alex Kapranos (of Franz Ferdinand), and others – as well as Ivor himself. The film offers a wealth of information (since almost none was available previously!) about Ivor's childhood and early adult life. Some of the more poignant recollections of Ivor as well as some of the others are of his time as a teacher – when I watched this with a friend (who has had little exposure to Ivor's work, but who was captivated by him immediately watching the DVD), we both began to make a comment simultaneously about how wonderful and unforgettable an experience it must have been both for the children he taught and himself, as a teacher. As several of those who knew him said in the film, Ivor had a unique way of looking at the world – and he was always touched by the openness of children in expressing their thoughts and feelings. Its obvious from his own work that he shared that innocence – even when dealing with subjects that are more 'adult' in nature, it's there.

Throughout the documentary, there are performance clips – some of which are very rare, from 1950s British television &c, and some from what was called 'Cutler's last stand', his performance from February of 2004 (several selections from this performance are viewable without narrative interruption, apart from the documentary itself), his farewell to the stage. Sadly, he passed away in March of 2006, at the age of 83 – he'll be missed by countless fans...even though he was considered to be an artist with a 'cult following', his admirers are legion. Over the course of his career, he recorded for several major record labels – and did 21 sessions for the late great British DJ John Peel.
Ivor's songs are both melancholic and humorous – sometimes both in the same song – and deal with everything from his childhood to his wry observations of everything from insects to birds to nature to people. Nothing was beyond his gaze – and no one else had quite the take on it that Ivor employed. A brief example is his short poem 'The wren' (not from this DVD, but it'll give you an idea): The wren hopped around on the cat's tongue, searching for the exit. 'Just wait until I get home,' she said – 'I shall have a tale to relate.'
Here's a short clip (I think from 1986) from the British TV show The old grey whistle test of Ivor singing his song 'Shoplifters', accompanying himself on the harmonium...


Priceless. Looking for truth with a pin is a fitting, loving tribute to a one-of-a-kind, gentle soul who will be sorely missed. Our poor world could use more of him. Fortunately, most if not all of his recordings are still available – the albums combine songs, poetry and spoken word pieces, all delivered in his inimitable style. Indulge yourself – have a look at the film, then check out some of his audio work. It's unlike anything else – a breath of fresh air.