Rosa Passos
Romance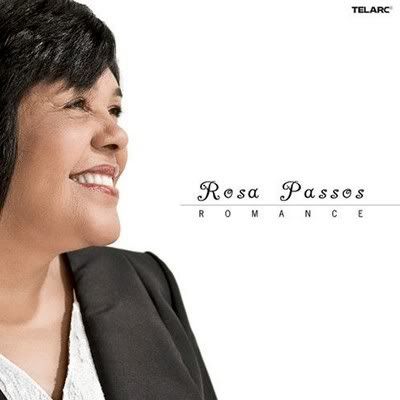 Telarc, 2008

During a visit to a local music store today, I stumbled across a new CD by Rosa Passos – an artist whose material I will buy without hesitation, given the quality of the work she's done over the course of her career. Rosa's voice is simply one of the most beautiful musical instruments on the planet. When world-renowned cellist Yo-Yo Ma first discovered Rosa's music, he wrote to her and said 'I've fallen in love with your voice…' – he later played on her 2004 release, Amorosa, and the two of them have since worked on other projects together. I'm certain that many other listeners, famous or not, have been touched by the beauty of her music in a similar fashion – I know that I have. The material she chooses is always first-rate (including her own compositions), arranged and performed with impeccable style and grace.


2006's Rosa featured just her voice and guitar – an album of breathtaking beauty, and one that I can return to again and again without any fear of it wearing thin. On her new release, Romance, she returns to the small-group setting she has used to such fine advantage through the years – her lovely voice is framed perfectly by 6-7 very sensitive and capable accompanists. There are no more than 6 players on any given track, and it's obvious that everyone is listening to all of the contributors – no one tries to outshine anyone. The arrangements (all by individual band members except for one group effort) are thoughtful, fresh and relaxed.

The songs on Romance come from the pens of some of Brazil's all-time greats – the ubiquitous Antonio Carlos Jobim, along with Vinicius De Moraes, Ivan Lins, Chico Buarque, João Donato, Djavan, Dorival Caymmi, and others. These writers have gifted so many great compositions to the world of Brazilian music, many of which have become standards – in Rosa's hands, they become her own. She pours her heart and soul into her singing, but in such a gentle, natural way that nothing ever comes across as sounding forced or disingenuous. The songs have strength and emotion, coupled with the soft touch of a night breeze off the ocean or a morning warmed gently by the sun. The fact that Rosa sings in Portuguese takes absolutely nothing away from the feelings she communicates – there's an intimacy in her delivery that leaves me feeling that she's singing just for me. It's that captivating.

I can heartily recommend Romance – that being said, everything I've heard by her is of the highest quality, a world of incredibly beautiful music. Her recordings Rosa (2006), Amorosa (2004) and Entre amigos (Among friends, with the great American jazz bassist Ron Carter) are especially noteworthy – but it would be impossible to go wrong buying anything she has released.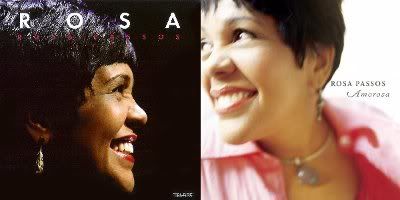 Rosa Passos' official website
(bio, discography, song samples, pics &c)