L'Ham de Foc
other places…other times…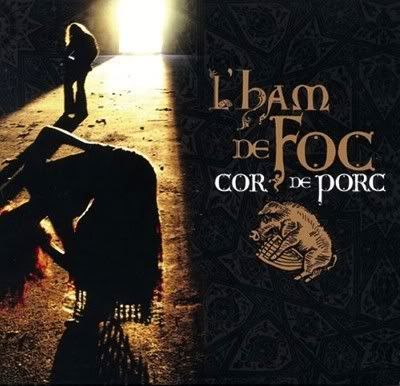 Cor de porc (2005)
When I describe specific music as having the power to 'carry me away', the tendency might be to infer that the music is meditative, relaxing, ambient – but there is power in all forms of music, and when it's performed with the right dash of what can only be termed 'magic', any music can have that transportative ability…

It is the Middle Ages. The sun is hot – there is barely a breeze in this hamlet situated at the crossroads of two trade routes leading to faraway, exotic places. A group of travelers arrives – they find what shade they can, unrolling blankets and opening boxes, revealing an array of musical instruments – as the villagers look more closely, they see many that are unrecognizable. The travelers are a diverse lot – many have countenances and wear clothing that only deepen the mystery of their origin. They arrange themselves in a semi-circle and begin to tune their instruments. After a few minutes of preparation, a man who has situated himself in the center of the arc begins to turn the crank of a vielle à roue – a hurdy-gurdy. The characteristic drone sets in, and one or two of the other players begin to strum their instruments, establishing a strong rhythm. A reed flute picks up the melody, soaring above the heads of the listeners. Two percussionists strengthen the beat – one holds a frame drum in one hand, striking it with his other palm; another, sitting cross-legged on the ground, positions two drums before him and begins coaxing sounds that are almost vocal from them with his fingertips, giving the villagers their first taste of the tabla. A long-haired woman in a flowing skirt joins in with a tambourine, dancing almost trance-like – one moment she seems to float above the ground, the next she stamps her feet in the dust, raising a wraith-like cloud. She begins to sing…her words shape a living, breathing world in the minds of those gathered around…

L'Ham de Foc (their name means 'Fish-hook of Fire') are a duo from Valencia, in Spain – Mara Aranda sings; Efrén López plays an amazing array of instruments from all over Europe, North Africa, the Middle East and Central Asia. His 'arsenal' includes (but is not limited to…) rabab, santur, ud, lavta, lauto, citola, cargola, guitarró, viola de roda, langeleik, trompa marina, çümbüs ud, çümbüs tanbur, tanpura, cura, baglama, divan saz, maydan saz, qanun, pandero quadart…you get the idea, I'm sure. I won't even attempt to describe all of these here – click on the link below to the band's website, and you'll find a tab there marked 'instruments', which will lead you to a page with information on all of these and more. There are guests on the CD – as well as at L'Ham de Foc's live appearances. The sound can get dense, but everything – even the instruments that might not otherwise be heard together – sounds as if it belongs.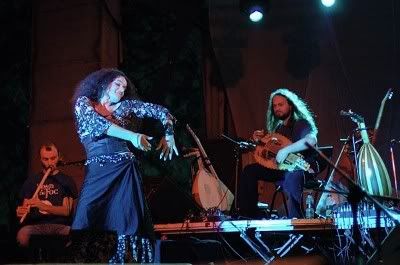 The CD title, Cor de porc, translates as 'Pig heart'. The notes explain that it '…suggests the idea of the eternal coming and going through life with its sadness and the natural imperfection which makes us (both musicians and the rest of the human race) like a pig attempting to wrench notes from a harp, when comparing with the ideal of perfection that we have. However much a man evolves, studies, investigates and wastes sleeping hours in the madness of being, he will never be more than this, a lonely pig with eternal insatisfaction like a hump.'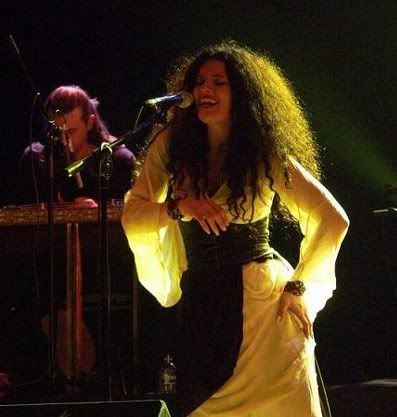 The songs, as near as I can tell from the booklet, are sung in Catalan, which is spoken in Valencia and Catalonia in Spain, and in Andorra – it's classified as a Romance language, and is similar to Occitan. The lyrics themselves – thankfully offered in translation – are the solid stuff of which traditional music all over the world is made: cautionary tales; tales of loves won and lost; stories of the joys and sorrows, the difficulties of life. Some are in the form of allegories whose meaning is intended to be passed to the listeners in such a way as to keep both the musicians and the audience safe from whatever powers-that-be might feel threatened by the message they bear. Forces of nature are given life and sentience; animals and plants are endowed with the powers of thought, interacting with humans in ways that border on the magical. Symbolism abounds – at times its meaning seems clear, at others it's barely discernable through a haze that is almost palpable.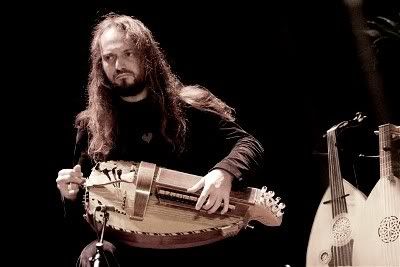 The music itself is incredibly powerful, even in its most delicate, ethereal moments. It can be felt in one song as a gentle breeze that is barely existent, or as a pond so still that the surface is an unbroken mirror, offering a reflection so clear and true that it is hard to tell the real sky from its twin. It can swell with the power of a wind off the sea, sweeping everything and everyone before it, powerless to resistance. There are times when it feels as if it would be impossible for the sound to build to a higher level – not in terms of sheer volume (anyone can do that, right…?), but wielding a force that is alive and vibrant, climbing plateau after plateau.

Indulge yourself. Here's a video of L'Ham de Foc in concert in Barcelona, 17 February 2005, performing 'Encara' from Cor de porc…
(Mara Aranda / Efrén López)

Who will remember me after today?
I shut my eyes, and I'm still alive…
my mother starts crying…
the sweet smell of quince jelly.
Who will lead me to the memory after the pain?
A chill hit me like a punch.
Finally peace in my temples.
Oblivion will come where memory used to be.
There's a silence coming from every word.
Dance of candles that watch with a blink of melancholy,
ringing at the entry where, lying on my back, I listen…
What will they say about this tragedy?
Never mention my name again!
The wait will come like the condolence.
Finally peace in my temples.
Oblivion will come where memory used to be.
There's a silence coming from every word.
Dance of candles that watch with a blink of melancholy,
fateful sound shivers over the door,
wind that arrives at odd times…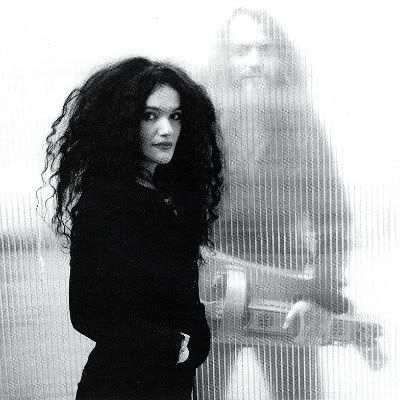 L'Ham de Foc
have two earlier albums available:
U
(1999) and
Cançó di dona i home
(2002). They have a brand-new recording as part of a 'parallel project',
Aman Aman
, entitled
Musica i c
ants Sephardis d'Orient i Occident
, which is dedicated to Sephardic music. Amazon wants $28 for this –
cdRoots
has it for
$16.
99, one more reason I keep going back to their site to shop. They also have the first two
L'Ham de Foc
recordings...I've already put in an order for them, based on the quality of
Cor de porc
.

Check out the website link – there's an incredible amount of information to be found there. If you do nothing else,
listen to the sound samples…!
These folks sound like no one else...!