These two CDs by La Bergère – a band I only discovered recently – are, without a doubt, going to be on my list of top 'finds' for 2007. From the opening lines of 'C'était', the first track on Ouvarosa, I knew I was onto something very special indeed. These recordings got under my skin and into my musical soul like few others I've come across in recent memory. I understand only a little French, and I have yet to find any English translations of the songs online – but even when forced to rely on the sketchy, incomplete versions formed by Babel Fish, it hasn't kept the sheer poetry and beauty of these songs from coming across. Without getting into analyzing how or why these works affect me so…it's a combination of the sheer quality of writing and performing that leaves me with the feeling of being entrusted with a confidence, as if I've shared an intimate, personal conversation with a friend across a table in a café.
Many of the lyrics evoke childhood – through references to memories, dreams, imagination, games and more, a time of innocence materializes, filled with images that, when placed together like the pieces of a puzzle, form a picture more vivid than that which is possible for 'mere words' to produce. This, of course, is the essence of memory: it rarely plays out in the mind like a film dryly documenting exact events of the past – rather, it manifests itself through a combination of sensory elements. Images, sounds, smells, touch sensations, emotions and countless other forces come together to paint a picture more real than any photograph could ever hope to reproduce.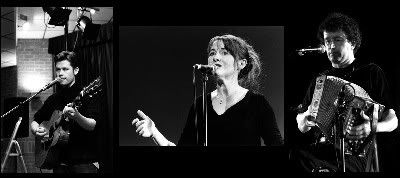 That being said, this music is, quite simply, beautiful and moving. The members of the trio – Sylvie Berger (vocals), Julien Biget (guitars, mandolin, mandola, bouzouki, psaltery, percussion, vocals) and Emmanuel Pariselle (diatonic accordion, concertina, flutes, percussion, vocals) – are masters of their instruments. The arrangements frame the songs and set the mood with perfection. Sylvie's voice is, naturally, the center of the songs – she sings the lyrics gently and delicately, but never without feeling. Some of the melodies could even be called 'difficult', taking unexpected turns that make great demands on her sense of pitch and control – she handles them all in a manner that is deceptive in its seeming ease and completely natural in delivery. The intricacy with which Julien and Emmanuel accompany her – and which is featured on some instrumental selections and sections – is nothing short of perfect. On repeated listenings, I've often reached for the 'backtrack' button to make sure of what I had just heard – their playing is quietly stunning, melodies and counter-melodies interweaving and separating in arrangements that have to be carefully planned, but which, in their hands, come across as natural and spontaneous.
Many of the songs were written or co-written by
Gabriel Yacoub
, a founding member of the seminal French new-folk ensemble
Malicorne
. Sylvie wrote some of the lyrics and melodies, and Julien and Emmanuel contribute also, as well as some of the guest musicians. Some lyrics are drawn from historical literary sources as diverse as Victor Hugo, Paul Fort and Carson McCullers. Piecing together such a patchwork of written material can be a difficult matter – here, everything fits perfectly.
There are several guest musicians on each CD, all of whom contribute notably to the overall sound and mood of the songs. Both albums are produced by Gabriel Yacoub – he also contributes guitar and vocals, and wrote or co-wrote several of the songs. Frédéric Paris, another seemingly ubiquitous player in the milieu, plays some wonderful clarinet parts and adds harmony vocals here and there, with Willy Soulette performing on bass clarinet and vocals as well – these two absolutely make the arrangement on 'Petits cailloux' on Ouvarosa, their wind instruments providing, in effect, vocal harmonies for Sylvie's lead, along with vocals by Gabriel Yacoub, Solange Panis and Eveline Paris. Julien and Emmanuel can be heard on many of the tracks, their voices blending with Sylvie's effectively and empathetically – the same characteristics that their instruments embody, a strong indication of not only their playing abilities, but of their dedication and commitment to the spirit of the group.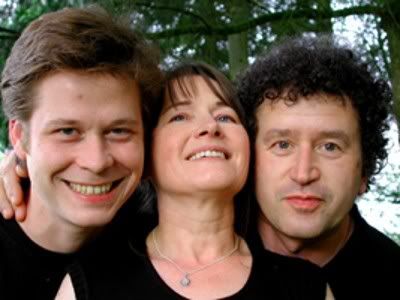 The combination on these discs of Sylvie's beautiful voice with Julien and Emmanuel's instruments creates some of the most intrinsically 'French' music I've ever heard – and at the same time, some of the most universally appealing. I've played these for a few people who are not in the habit of listening to this sort of music, and they've all found them enjoyable – a testament to the power of beautiful music to speak beyond language.
I came across a bit of treasure on YouTube – three videos of La Bergère performing at the Festival des Granges in Laimont in 2006. These were apparently shot from the audience by a fan – not studio quality, but wonderful to find nonetheless. The first is 'La rivière' from Fi de l'eau – the trio is accompanied by Gabriel Yacoub and two unidentified vocalists:
The second is 'Elle dansait', from Ouvarosa. Julien plays some beautiful guitar on this track, and Emmanuel doubles on low whistle and accordion:
The third track, also from Ouvarosa, is an incredibly lovely a cappella number, 'Nous irons en France' – the three voices blend wonderfully:
I can't recommend these two CDs highly enough – as often as I've played them over the course of the last month or so, it's a testament to the depth of this music that it still sounds as fresh as ever. La Bergère combine elements of traditional French folk with contemporary sensibilities and methods with a success for which most roots ensembles only strive. They're both available from – you guessed it – cdRoots, at very reasonable prices. There are song samples from the albums available there, as well as on the group's official site (where the French lyrics are also available) – the links are below.
One last comment: Emmanuel Pariselle has a solo album available, La Nonchalante, on which he demonstrates that he's not only a fine instrumentalist, but a wonderfully natural and effective vocalist as well. I hope to add a piece about it soon.