François Lazarevitch
+ Les Musiciens de Saint-Julien
Danses des bergers, danses des loups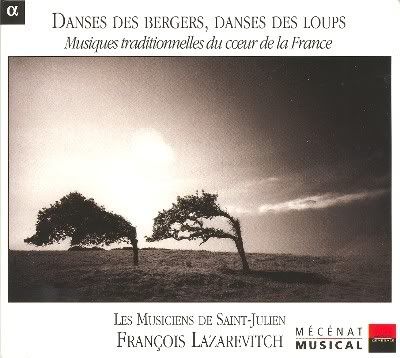 musique merveilleuse qui vit et respire…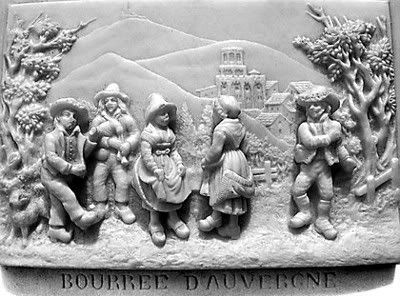 It's a razor's edge to walk, documenting a traditional form of music in an almost scholarly fashion without making it feel cold – on Danses des bergers, danses des loups (Dances of shepherds, dances of wolves), François Lazarevitch et Les Musiciens de Saint-Julien pull it off with a life-affirming vitality that is completely in touch with the popular origins of this music among the down-to-earth people who have created and embraced it for centuries in central France. This is essentially dance music – it has been played more or less in the same form in the small towns, villages and farms of the region almost since its inception. In a society where hard work – often with meager rewards, simple survival being one of them – was the daily norm, entertainment that we might view today as a 'perk' of life, a mere distraction, was in effect an absolute necessity for retaining one's sanity, for blowing off a little steam and releasing natural pent-up frustrations. The opportunity to relax a bit, to mingle with neighbours, was – and should still be, truth be told – a vital part of life itself.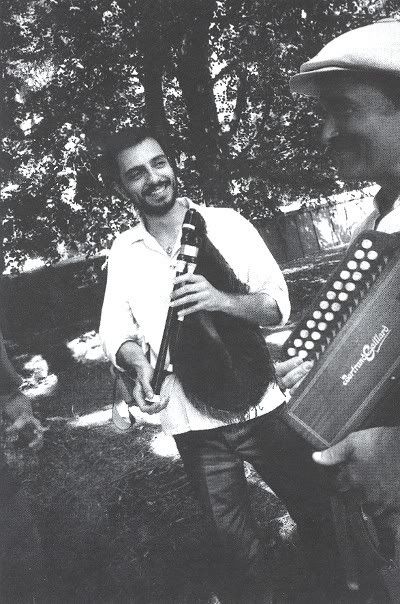 François Lazarevitch + Gilles Poutoux
Lazarevitch has assembled a stellar cast of musicians for this outing. He performs on cornemuse (French bagpipes), sings the one song on the disc, and adds foot rhythm to several tracks, as well as serving as the director of the project. The list of other players reads like a veritable who's-who of French traditional music:
Basile Brémaud
(
violon
);
Anne-Lise Foy
(
vielle à roue
), who has played with
Patrick Bouffard
,
Trio DCA
,
Toc Toc Toc
and several other fine groups / projects;
Gilles Poutoux
(
accordéon diatonique
), who is a very capable player of both French and Irish traditional music, and has worked with
Emmanuel Pariselle
and others; and
Dominique Paris
(
cabrette
), one of the most respected performers of French traditional music today. The arrangements are varied – some with the full ensemble, some played by various combinations in quartets, trios, and duos, along with a couple of solo cabrette sets. Everything is pieced together perfectly – if not for the details given in the notes concerning the tunes that have been combined into sets, one would think that each track is a single work unto itself, with varied melodic sections.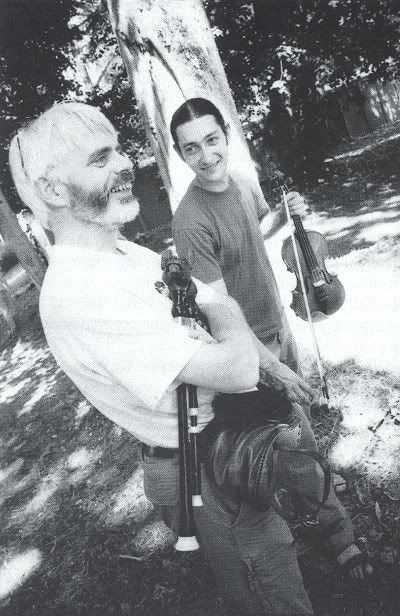 Dominique Paris + Basile Brémaud
Speaking of the notes – they're detailed and informative, extensive without being too dry. Lazarevitch writes about the individual tracks, as well as presenting a background on the history of piping in the region, relating stories about the powers of sorcery and magic associated with the music, with the religious implications inherent in such associations:
'People have always been fascinated with the bagpipe with its strong, continuous sound, and its connection with the animal. Symbolic or decorative motifs add to its mystery; using traditional techniques, a bagpipe may be inlaid with tin, engraved, decorated with mirrors, and so on. In filling the skin with air, the musician breathes life into the animal, which he clasps to his body to keep it under control. But is this a good beast or a bad one? A creature of God or a beast of the Devil? Likewise, is the dance played on the bagpipe a gift of God or an invention of Satan?'
There is also an article included, by Naik Raviart, on the origins of one specific dance, the
bourée
.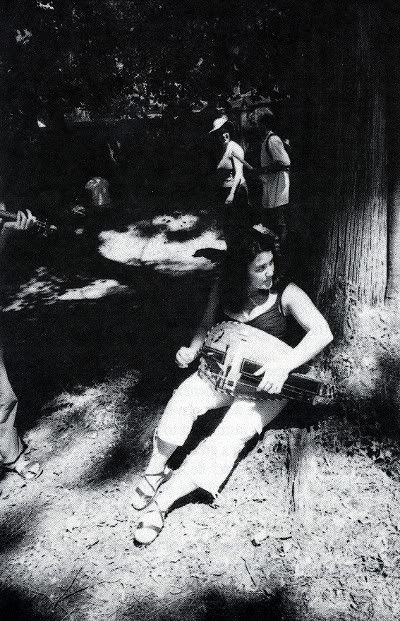 This is a great CD – the music is presented with incredible skill coupled with living warmth. It's lively, it's beautiful and moving – and, like all well-performed dance music, it makes it hard to keep your feet still. Too many people shy away from wonderful music when they hear the word 'bagpipes', usually remembering the sound of the Scottish highland pipes, which can admittedly be loud and a bit daunting for the casual listener. Bagpipes come in all shapes and sizes, and with all sorts of sounds – the
cornemuse
, like its Irish cousin the
Uileann pipes
, has a very beautiful, almost vocal quality to it. It's an extremely compelling sound. The
cabrette
(which I'll admit to knowing nothing about until a short while ago) is basically a smaller set of pipes without the accompanying drones – it's played throughout central France by people of all ages and both genders – it makes an interesting and appropriate co-voice alongside the
cornemuse
.
I ordered this CD to include in my collection as an example of this particular genre of traditional music – I knew it would be high-quality, well-performed music, given the performers involved…but I had no idea I was going to enjoy it so much, or find myself listening to it so often. It's always nice to be surprised in this way.
Check out the samples at the
cdRoots
site (
click here
).