Emmanuel Pariselle
La Nonchalante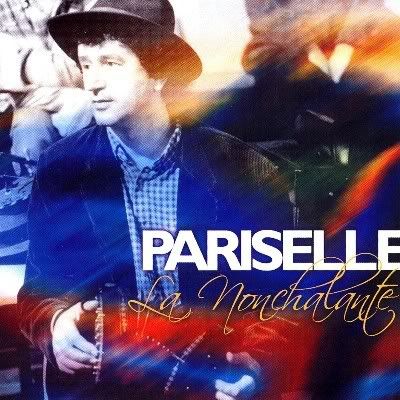 Laissant la chanson mener la manière...
No matter the language, a great song is made even greater when the performer allows it to override his or her own ego – the song wears the performer like a sentient glove, each of them enhancing the other. When this happens, it's a sheer wonder – a delight for both the performer and the listener. This is a rare enough occurrence – when it happens consistently over the course of an entire recording, it's a true treasure. Such is the case with Emmanuel Pariselle's La Nonchalante – even understanding very little French, I can't get enough of this album. Tunes from it pop into my head hours or days after hearing it – that's some pretty amazing 'staying power'.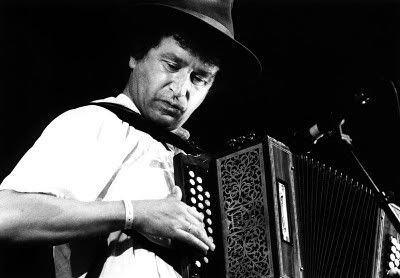 Emmanuel plays with
La Bergère
, a French folk trio I've recently discovered – one of my favorites of late. He's an incredibly accomplished musician, skilled on diatonic accordion and concertina, as well as low whistle. His technical abilities are obvious when you hear him perform – but like the great accompanist he is, he knows how to support instead of overplay, an extremely important component whether he's playing in an ensemble or, as is the case here, on his own project. Overplaying can not only apply to other musicians with whom one is performing, but to the songs themselves – and letting these songs shine through as the gems they are is one of the best things about this album. He has played on countless recordings and as a part of a large number of ensembles – he has also given classes and workshops, in France and abroad. When I found the listing for his solo CD, I ordered it immediately – in my haste, the fact that the website mentioned 'songs' was completely lost on me, and I was expecting to receive an instrumental recording. When I received it and popped it into the player, I was surprised – but any misgivings quickly gave way to complete enjoyment. Emmanuel delivers these songs with ease and grace, without over-emoting or any unnecessary instrumental flourishes. There are several fine originals; some by other writers, contemporary and otherwise;, and some traditional – there's even a piece by the great Irish harpist Turlough Ó Carolan (1670-1738), 'Captain O'Kane', brilliantly performed by Emmanuel, coupled with one of the traditional songs.
On
La Nonchalante
, he plays diatonic accordion and concertina, as well as singing all the songs. He's joined by some notable guests here and there – his bandmates from
La Bergère
,
Sylvie Berger
(vocals) and
Julien Biget
(acoustic guitar);
Myriam Added
(accordions);
Alfred Den Ouden
and
Philippe Prieur
(cornemuses), and
Gabriel Yacoub
(vocals). The album was produced by Yacoub, who wisely opted to record it 'live' at the house of friends in Flanders – the result is a recording that is amazing in its feeling of ease and naturalness, difficult qualities to achieve in the sometimes cold atmosphere of a studio, no matter how 'warm' the atmosphere might be. Listening to this CD, I'm left with the feeling that I've been party to a gathering of friends sitting around a big kitchen table playing and singing these wonderful songs – it's one of the most relaxed and intimate discs I've heard in ages.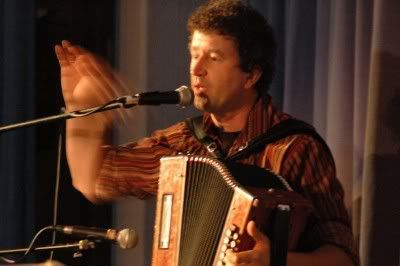 Without understanding the lyrics, it's hard to comment in depth on the meanings of the songs, of course – but I have some favorites. 'Les mangeaux d'terre', written by
Gaston Couté
(1880-1911) and
Maurice Duhamel
(1884-1940), is a great song looking back on the authors' memories of growing up in the countryside, and of the changes they see every time they return.
Emmanuel dedicates his original song 'L'auberge de la double écluse (The inn of the double lock)' to three other accordionists with whom he has worked:
Martin O'Connor
,
Christian Maes
and
Gilles Poutoux
– and to the memory of sharing a few rounds with them in an inn, passing conversation while watching the children of the lock-keeper dart in and out – there are images of the passing of time, shadows deepening, gentle and memorable camaraderie, ending with the singer enjoining the listener to stop in – 'it is not the most beautiful canal, they are not the best white wines – but come to spend an enjoyable moment there near the stove, if you are hungry or thirsty, come there where the barges stop…'
'Hier au soir embarquant' follows – a traditional Acadian song, performed a cappella by Emmanuel, Sylvie and Gabriel. The translation I managed is very rough – but it appears to be sung between a young woman and her lover, who is about to sail away to sea. She is expressing her sorrow but noting that '…the child that I carry will not suffer the same sad fate – it will never know its father…' The three singers' voices blend together beautifully – as they do on several songs from the two CDs by
La Bergère
. It's a type of harmony that seems to be found quite a bit in French traditional song – I don't know the technical name for it, but it sounds relaxed and almost impromptu, though I'm certain it's precisely structured. At any rate, it's simply lovely.
The translations are made more difficult – at least for me, with my limited knowledge of French and the questionable (at best!) results from Babel Fish – by the frequent use of uncommon contractions. There are letters dropped all over the place, and I'm guessing most of the time as to what was left out – the results are haphazard most of the time, sometimes impossible. Someone with more of a working / conversational level of French will no doubt make more sense of things. That being said, even without understanding each and every song to its depths, this recording is extremely enjoyable. Samples of the first ten tracks (there are fourteen altogether) are available at the
Home Records
site (just click on the song titles).
When it comes down to it, these songs simply, honestly and compellingly sing the
truth
– whether the subject is country life, the heartbreak of lovers parted by the ocean, the hard life of a prostitute, the wreck of a canal barge, or simply memories of times gone by. The feeling carried by the songs, through Emmanuel's unaffected, completely un-egotistical singing and his incredible skill on his accordion or concertina, comes through with a life of its own, with a simple dignity that raises it far above maudlin nostalgia and into the realm of living history. These are memorable melodies that have the power to move the spirit of the listener, as they obviously moved the spirit of the performers. This album should appeal to anyone who appreciates folk music in its truest form – I can't recommend it highly enough. One more great purchase from
cdRoots
.
link :