Bugel Koar
dancing with the wax doll...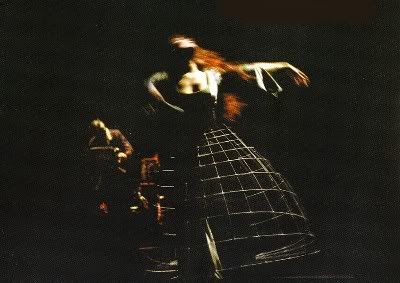 These two CDs absolutely knock me out. I bought Ar solier after reading about it online – it was only a couple of days after it arrived that I turned around and ordered Nebaon! I knew I had discovered something very special indeed in Bugel Koar – since the discs arrived, I think I've listened to one or both of them every other day or so. They're simply extraordinary.

Bugel Koar (the name means 'Wax Doll' – possibly a metaphor for the malleability of their music) are a duo from Brittany. Marthe Vassallo (voix) and Philippe Ollivier (bandonéon, accordéons diatonique et chromatique, accordina, samples et montages sonores) are amazingly talented and imaginative musicians who are steeped in the traditional music of their region. Their work as a duo is founded upon this strong foundation – their talent and the fire of their creativity are charting a path in expanding their art, taking Breton music into the new century without sacrificing its history or turning their backs on its long tradition. It's a difficult road to travel – many individuals and groups, from various countries, have tried and failed.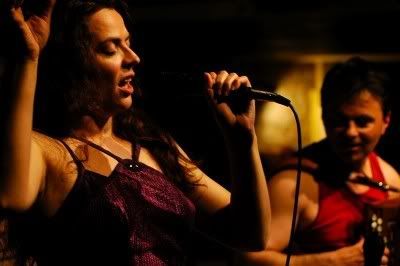 The songs – composed and sung mostly in
Brezhoneg
(the Breton language) – run the gamut lyrically. They include love songs, humorous jabs at the compulsively fashion-conscious, songs of advice from one generation to another, social commentary, and the downright macabre, dealing with murder, rape, infanticide, suicide and more…all the stuff of which great traditional songs are made. Everything is handled with care and thoughtfulness – Marthe's voice is a beautiful instrument, capable of expressing a plethora of emotions with strength and clarity…and Philippe's skill on his instruments complements her wonderfully, sometimes backing with solid chord clusters, sometimes playfully putting out an intricate melody in counterpoint to her vocal line. At times, I can hear what seem to be 'echoes' of
Hanns Eisler
– it could be the melodies themselves, or the sound of the bandonéon / accordion being close in nature to that of the harmonium, which I associate with the songs of Eisler (thanks to
Eric Bentley
's wonderful recordings). There's also a definite theatrical element to
Bugel Koar
's work, which is of course also present in Eisler's vocal music.
There are guest musicians on both recordings as well, adding their creative touches to the overall sound sensitively and to great effect. Most of the arrangements could be called sparse – even the ones which feature 3-4 extra players never get so dense that they override the mood and meaning of the lyrics, which are offered graphically in the enclosed booklet, with translations in French, along with summaries and background information in English.
And the packages…! These CDs come in oversized digipaks with cardstock booklets inside – they're some of the most graphically beautiful I've come across, adding immeasurably to the concept and effectiveness of the project as a whole. The duo is obviously oriented visually as well as musically – the photos of
Bugel Koar
in performance, as well as information available on their website (and through links available there) indicate that they're involved in other projects. Marthe is a member of the Breton
fest-noz
band
Loened Fall
(which translates 'The wild beasts'). I'll address their music later, in a separate post – it's amazing. Philippe participates in multiple musical and multi-media projects – I've come across his name as a performer and an engineer on more traditionally-oriented recordings. It's great to see creative people fuelling their art by expanding it in more than one direction.
Track standouts? There are so many – I can honestly say that I love each and every tune on both of these CDs, and I hear new elements and discover subtle nuances with each listen...but I'll mention a few details...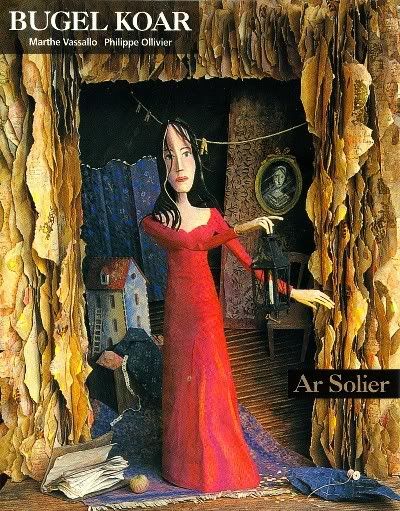 Ar solier (The attic)
, released in 2000, starts with 'Ar spes (The ghost)', co-written by Marthe and Philippe – the singer asks 'Will this house be the one I'll never feel the urge to leave?' of an apparition who sits silently in front of the cold fireplace. She refers to him as 'my friend, my obsession, and my punishment', concluding that 'now the house is inside me, and I could never, ever leave it' – it's a chillingly beautiful song.
The next song, 'An Aotroù 'r C'hleuzioù (M. de Cleuzioù et Jeannette Riou)' tells the story of a love-gone-wrong. The local lord (disguised as a beggar to determine how charitable his peasants might be) is rebuked when he asks to sleep with one of their daughters – when the girl, Jeannette, later goes to the manor house to 'make up' for her parents' mistake, she is told by a maidservant that the lord is already engaged to a noble girl. She commits suicide by throwing herself into a pond – when her body is found, the lord renounces his wealth. The notes end with 'Maybe he did love her after all. Perhaps he was not engaged. We do not know.' – an enigmatic song, like many in traditional music. The arrangement begins simply, with Marthe delivering a tenderly beautiful
a cappella
opening – Philippe's
accordéon
enters quietly, building his support as the story unfolds, becoming more assertive as it vividly portrays the more frantic and disturbing elements of the tale, then once again quieting for the conclusion. The whole thing is masterfully conceived and delivered.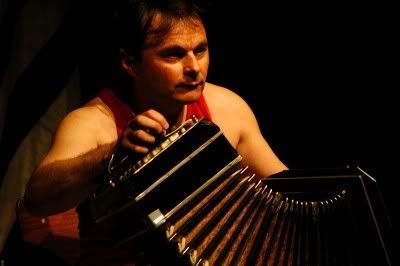 Another great framing can be heard in 'Ar verc'h hag ar vamm (Mother and daughter)', in which the young woman asks, 'Tell me, mother, why do you disapprove of my sweetheart?' Her mother lists her specific objections ('He's not much of a worker, dear, and he's got too much money. I tell you, if you marry him you may have bread, but it will be soaked with your own tears.' The daughter retorts, 'And I tell you, mother, that if I don't marry him you can prepare my shroud and the wood for my coffin'. It's an age-old conversation, repeated in every generation since the beginning of time, and one addresses countless times in traditional song – an eternal dynamic between mothers and daughters. Marthe sings this song over piano accompaniment by Frédérique Lory, and the song ends with her layered voices singing verses from well-known regional songs – 'other mothers and other daughters…', conclude the notes.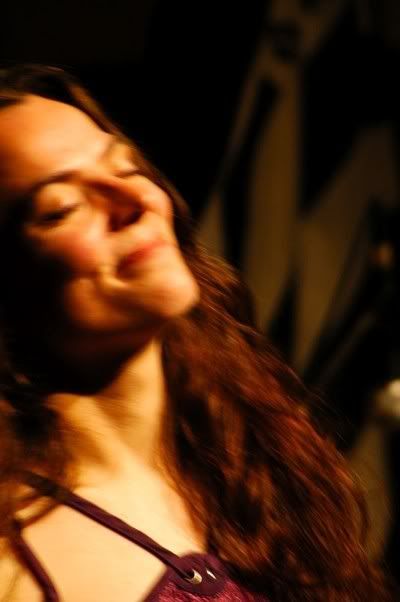 'Ar C'hiz Nevez (The latest fashion)' takes a humorous and playful – but not completely unserious look – at the compulsion present in each generation to follow whatever trends pop up, describing the scarves, stockings, dresses and shoes that the rich and poor alike are buying, 'all sport the same disguise'. The comments end with 'Girls, this was at least 110 years ago, so draw your own conclusions'.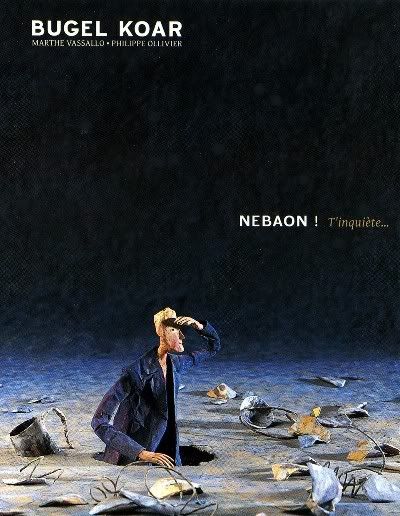 'Ha hirie 'h eo? (Is today the day?)', the first track of Nebaon! (released in 2004) lets the listener know right from the start that Bugel Koar are not allowing their imaginations to stand still – it opens with rhythmically layered samples of car engines, slamming doors, cell phone rings and other sounds (put together by Philippe), with Marthe singing 'Is today the day I shall be seen, betrayed, judged, lost? Is today the day I shall make a mistake – today on the road – be wounded, be lost?', voicing the uncertainty of confronting each and every step in life.
'Ar c'hontilli (The knives)' continues on a similar theme, describing the unreality and danger of life itself from the point of view of a performer who stands on stage while knives are thrown at her: 'I take a deep breath and stand still as the blade whistles past my face. My image is still pinned to the board when I walk off stage, danger and to be saved are my job. I can't control anything, can't help but think of all the ways I could die if you missed by ten, by nine, by eight…You still haven't done me in, Didn't you want to, or is it just that you can't aim straight?' Even in translation, the song makes an effective transition from a simple story of a carnival performer to a deeper observation about the pitfalls of relationship dynamics.
'Al lutig (The nightlight)' addresses the question 'What can man do to man?' – the song was inspired by the story of a mother and daughter in a World War II concentration camp. The mother undressed as ordered and sat on a stool to have her head shaved by another prisoner. When her daughter's turn came, the mother took the scissors from the prisoner and cut her daughter's hair herself – injecting a mother's touch of love into an unimaginably horrific situation. The comments note: 'Further than the extremes of faith, life and murder, beyond reach of hate and denial, there is a tiny invisible thread, a mother who comes to crop her daughter's hair. However dim the spark might be, it is a light to us in the darkest night.' A dark, dark song – but one ultimately of hope.
One of the most beautiful songs on
Nebaon!
– and one of the most unusual arrangements – is 'Me a garfe, koantennig (I love the beautiful one)'. It's a traditional song, sung by Marthe over what sounds like a melody played on struck metal tubes (she's credited with 'koarophone' as well as vocals on this track), relating the story of a shoemaker proposing to his love with such eloquence and honesty that he wins her heart over his two rivals: 'How I would like to sleep by your side, in a bed made of golden wood with lace trimmings, an orange at each corner, and a little bird on each orange singing the lord to sleep on his lady's bosom'.
'Marc'hadour (Shopkeeper)' returns to the theme of following fashion voiced in 'Ar C'hiz Nevez' on
Ar solier
– but with an important difference. Instead of clothing, the shopkeeper in this tune is offering the fears and dangers of life itself: 'Come in and have a look, I sell only the trendiest items for all the family: wolves, floods, fires, leprosy, cruel kings, bad reputations…Madam, why don't you buy one of our new terrors? Your anxieties and fears are really out of date – or maybe our classic: anguish that you could even pass on to your children. I sell every single one of the thousand ways there are to lose and to die. In the catalogue, you can find out how to escape them all…except one.'
'Chom (Staying)' is a short, bittersweet tune by Marthe, perhaps reflecting on the advice of the mother in 'Ar verc'h hag ar vamm' from the previous album: 'One last kiss before leaving, be careful on the road – and then the bedroom is empty and silent. Oh mum, how right you were!' 'Hindsight is 20-20', as they say – true in any language, any culture.
Another great song about perseverance in the face of strife and danger is 'Me 'mo (My way)', written by Marthe. Dark images abound, but the voice of hope and determination comes through: 'The winds are icy. Burials multiply. The war gets closer. All the sorrows of others are like hands pulling the strings of my corset. Who will it help when I am choked? Keep that soup of yours, it tastes of blood, sour wine and salt. Instead, I'll have good news even if we have to invent it, stars in the sky even if we have to stick them there, and fleshy dreams even with my eyes open…I swear we'll never, ever regret today's world.' The arrangement is played as a waltz, with almost a carnival atmosphere, belying the lyrical subject-matter – an extremely effective contrast.
'Son an hanternoz (Midnight song)' is haunting and beautiful, filled with images of night-musings and insomnia, sung by Marthe over Philippe's spare
bandonéon
accompaniment: 'All the good people are sound asleep behind locked doors, yet I can't give in. I am bound to lose something if I sleep now…Could it be the memory of the beginning that stops me resting, a fear that the end might come?'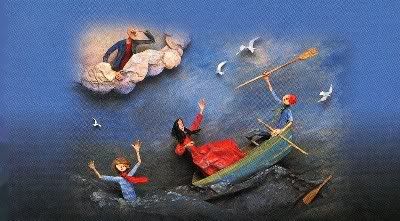 The album ends with a lovely, gently nostalgic look back at the innocence and carefree time of childhood, comparing it to the reality of adult life, with its worries and pain joining the joys it brings – the two realities are linked by the memory of time spent by a river, which is turned into a metaphor for life: 'I am watching you sleep…In childhood summer days we used to throw dead leaves into the river and watch, laughing, to see whose leaf would drown last. Now I can't take my eyes off your chest, I can hear the river again and feel the flow making and breaking in your blood. Joy and despair choke me, settling accounts before the river's end.'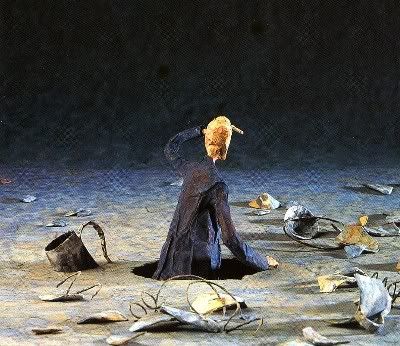 I find the image of the man on the cover of
Nebaon!
to be very appropriate – he seems to be searching for something, looking out upon a world that is desolate and strange and dark, emerging from the hole where he has kept himself safe. The music of
Bugel Koar
is a living, searching thing – with their feet planted firmly in the traditional music and culture of Brittany, Marthe Vassallo and Philippe Ollivier are seeking ways to reach out into the darkness, using every tool at their disposal to help themselves – and their listeners – better understand our world. This is nothing short of amazing music, folks.
For those fluent in French (or who have the patience to cut and paste into Babel Fish or another online translation service), check out the band's website (link below) – if nothing else, for the photos. For sound samples, I've also included a link to the site for
An Naer
, the label on which these two recordings appear – they've got a small but impressive catalogue of Breton music, including two releases by
Loened Fall
. Both
Bugel Koar
CDs are available through
cdRoots
.
links:

Bugel Koar – official website
An Naer – label website
(click on the CD covers for sound samples)