the still waters of time...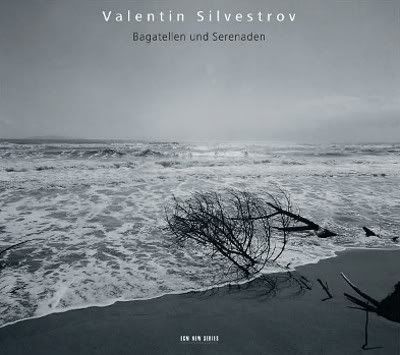 Valentin Silvestrov :
Bagatellen und Serenaden
In his notes to the 2004 ECM release of Ukrainian composer Valentin Silvestrov's Requiem for Larissa (dedicated to his wife, Larissa Bondarenko, who died in 1996), music critic Paul Griffiths makes a statement that cuts to the heart of Silvestrov's art : 'Time in Valentin Silvestrov's music is a black lake. The water barely moves, the past refuses to slide away, and the slow, irregular stirrings of an oar remain in place.' This sense of 'stopped time' pervades many of the composer's works – it seems to me a bit of an aural equivalent of what the great Russian film director Andrei Tarkovsky did in his cinematic masterpieces. Tarkovsky called it 'sculpting in time'. In Silvestrov's music, time stands still to the point of disorientation – some of his larger, longer works give the impression of constantly 'ending', only to continue. He calls his music 'post-symphonic', and the titles of several of his works reflect this: 'Postludium' and 'Postlude' appear here and there. The listener is left with a sense of déjà vu – has this music been experienced before, perhaps in another lifetime? In one of his pieces from the mid-70s, 'Kitsch music for piano', there's a movement entitled 'A metaphor for Schubert and Chopin', leaving the listener with the impression that this music must have been written by a composer centuries ago – exactly the effect for which Silvestrov was reaching. I think perhaps it's not so much that Silvestrov is trying to 'stop time' – it's more like he's setting the listener afloat in that 'lake', where the present and the past touch and interact. Memory becomes as tangible as present existence – tenses merge and blur. Herbert Glossner, in the booklet accompanying the ECM release of Silvestrov's Symphony no. 6, appropriately quotes Marcel Proust (from Remembrance of things past) : 'And all at once the memory returned.' Memory, in the music of Valentin Silvestrov, is as much a physical dimension as space.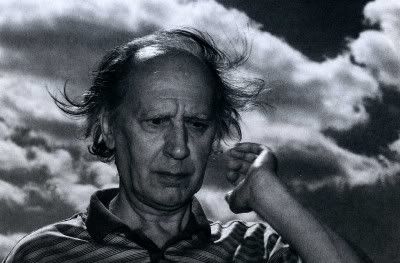 After the obvious starting point in the composer's mind, Silvestrov's compositions begin on the piano. Over the years, I have found the brief tastes of the composer himself at the keyboard that have been offered on three releases ('Four songs after Osip Mandelstam', for baritone and piano, recorded in 1986 and released by both Megadisc and ECM with Silent songs; 'Unsnaya musika 1 & 2', included with the song cycle Stufen, recorded in 1999 and released by Magadisc; and 'Hymne 2001', which appears on Leggiero, pesasnte, recorded in 2001 and released by ECM) to be some of the most moving music I've ever heard. Thus it was with great anticipation that I awaited the release of Bagatellen und Serenaden, ECM's newest offering of his works. Over half of the album features the composer at the piano, alone, performing some of his most intimate, moving works, many of which he says have never been written down on paper. According to the notes, the composer often works on compositions in this manner, holding snippets of melody in his mind for long periods of time before putting it in writing – thus the pieces are allowed to find their own voice naturally, over time. The sense of physically plucking memories out of time is therefore strengthened by the very process through which the pieces come into being. His music has been described as 'a dialogue with silence' – each note, each phrase is given a life of its own and allowed to move and breathe naturally, without artifice. More than any composer I've ever heard, living or not, Silvestrov combines elements of the avant-garde (the school in which he matured) and the neo-romantic – he does it seamlessly and without pretension, holding the melody above all else, even in the most dense and dissonant passages of his larger works. His music has a living flow unlike that of any other composer.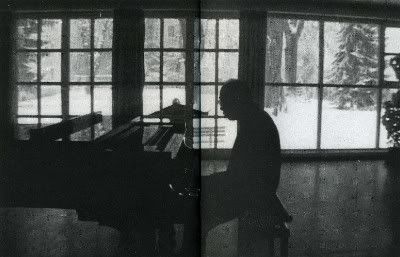 I'm by no means a classical music scholar – what I'm expressing here is intended to be more on an emotional response level than anything so exacting or analytical. Hearing these piano pieces directly from the hands of the composer is a very moving experience for me – it's extremely personal and conversational, as if he's speaking through the keyboard and my soul is responding.
As one might expect, the production on this release is superb – ECM has long been known for the highest level of audio quality. In the case of the solo piano pieces presented here, they've outdone themselves. Rather than 'placing' the listener in close proximity to the performer (some engineers seem to think the listener should practically be inside the piano), sound engineer Stephan Schellmann and producer Manfred Eicher have achieved a sonic miracle – when I listen to this recording, it's as if I'm sitting about halfway back in the recording space. The element of memory and the feeling of experiencing this music over a 'quiet distance', seemingly intangible and untouchable qualities, are brilliantly conveyed by the recording.

The other half of this CD is comprised of works for chamber orchestra, two of which – 'Der Bote' (1996) and 'Zwei Dialog emit Nachwort' (2001-02) feature the wonderful playing of Alexei Lubimov, long a fine, sensitive interpreter of Silvestrov's keyboard compositions. The orchestra is the Münchener Kammerorchester, under the able direction of Christoph Poppen. These are pieces of aching beauty – but one shouldn't take that to indicate that they are 'fluff' by any means. Silvestrov's works are always of strong substance and intellectual depth – every note does its part to complete the effect of the whole, and nothing is left to chance or done without consideration.
Another new release featuring Silvestrov's piano works has been issued by Hänssler Classic, as a joint production with SWR – the performer in this case is Jenny Lin, and the album is entitled Nostalghia. Lin is an admired interpreter of the composer's works (she has also studied with him) – the 'Three postludes' (2005) that appear here are dedicated to her by Silvestrov. Her touch and interpretation, like those of Lubimov, seem to be very much attuned to the composer's intentions. The inherent intimacy and deep emotion of these pieces, the 'beautiful quietude' that they seem to invoke, find in her an able and willing translator. Lin's recording brings together pieces composed from 1972 to 2005, and she handles all of them with the utmost respect, care and feeling.

Several of Silvestrov's works for piano reference composers he admires through titles and / or dedications – 'Two pieces' (2003) has a movement entitled 'Chopin moments'; 'Three waltzes' are titled 'Schoenberg', 'Webern' and 'Berg', respectively. 'Two dialogues with an epilogue' (2001-02), goes even further, quoting, tellingly, the 'Kupelwieser waltz' by Franz Schubert – a piece which, according to the notes, was only played by Schubert and never written down by the composer. Not until 1943 was the piece, which had been passed down from 'ear to hand' through the years, written down by descendants of Richard Strauss. Silvestrov believes very strongly in this sort of 'oral tradition' playing an important part in composed music – just as many of his own melodies and ideas are carried in his mind for years before being printed.

These two discs present some of the most important and moving work by a artist whom Arvo Pärt has called 'one of the greatest composers of our time' – no small bit of praise. I can heartily recommend any the ECM releases that showcase his work – and especially Bagatellen und Serenaden. As an introduction to an important composer, it's a great place to start exploring.