Älvdalens elektriska
(and the 'elektriska' is in the music, not in any amplification – this recording is completely acoustic) is one of those rare releases that seems perfect in every way – from the songs and tunes selected, to the choice of accompanying musicians, the arrangements, the performances, the sound quality and even the packaging. Lena Willemark (born in 1960 in the village of Evertsberg) describes herself as 'in love' with the music and culture of her home region – she has been performing and recording all of her adult life, and her dedication, spirit and abilities shine in everything she does. With a string of notable recordings behind her – as a solo artist as well as a member of respected groups like
Frifot
,
The Nordan Project
, and
Enteli
– she has brought forth an album that from the very first sounds of the first track evokes a sense of place that is palpable and transporting…and that level of beauty, power and quality is maintained until the last note of the last song fades away. This is a 'desert island disc' if I've ever heard one.
The programme is subtly varied and intelligently balanced – there are four tracks that are completely instrumental and ten that feature Lena's beautiful voice. With five wonderful musicians along for the ride, I'm guessing that Lena and the group together made the collective decisions on who would play on each track, the arrangements being determined by the needs of the music itself in finding its form. Two of the instrumental tracks ('Mikkelkwenn' and 'Mjölnarpolskan') are duets between Lena (on fiddle or alto fiddle) and Leo Svensson (on cello) – the two instruments blend together and complement each other wonderfully, weaving a tangible magic for the listener. On 'Dikka / Dieg Anders', Verf Lena Egardt adds a second fiddle; and with 'Hemvändaren' we're treated to a solo fiddle tune by Lena.
The first track ('Åsenpsalm') opens with the sound of waves lapping gently on a shore, followed by Lena voicing a bit of a herding song – the other players enter, and Lena switches to a more 'standard' form of vocal. It's immediately apparent that the cello is a great choice for a 'bottom' instrument in this ensemble – but Svensson's playing ventures far beyond any boundaires implied by that description. The same can be said for the presence of a couple of instruments – bandoneón and ney (played by Mikael Augustsson and Haci Ahmed Tekbilek, respectively) – that might seem a bit incongruous in a recording of Swedish music, but as the album progresses, it's clear that they fit into the mood and mix perfectly.
The number of accompanists on the vocal tracks varies – there's not a single selection where all six performers take part. Two of the most effective arrangements, to my ears, are 'Ditt blå' and 'Hoppets dörr' – Lena's voice (with the addition of her alto fiddle on the latter) is teamed with the bandoneón of Mikael Augustsson and Leo Svensson's cello. The spare beauty of these two tracks is incredible, and 'Hoppets dörr' especially has an extremely intimate feel to it – I felt as if Lena were singing this only for me (or, of course, to anyone else who happens to be fortunate enough to hear it). The stunning clarity of the recording is first-rate throughout the disc (a wonderful job by engineer Sigge Krantz), but on 'Hoppets dörr' the 'breathing' of the bandoneón (a unique characteristic of the instrument) makes it sound like a living being – an amazing track, I played this over and over the first time I heard the CD.
Lena's voice is a warm, expressive, beautifully controlled instrument – even without understanding more than a few words of Swedish, it's easy for me to feel the emotion with which she delivers the songs she sings. 'Ande' is a real jewel – an
a cappella
performance by Lena – and on 'Tommos Kerstins vallåt / Silder / Vallåtspolska' she treats the listener to a medley of a couple of fiddle tunes framing a song.
The herding calls that Lena performs on some of the selections are thrilling to my ears – I was immediately reminded of the shepherd's calls heard in the background during parts of Andrei Tarkovsky's last film, 1986's
Offret (The sacrifice)
. From what I can understand of the credits (and they're in extremely small type…!), it appears that they were recorded outdoors on location, then mixed in the studio, sometimes with other instruments, sometimes not. However it was accomplished, they bring multiple senses of the outdoors into the recording, and add immeasurably to its effectiveness, fitting perfectly into the thematic programme.
I mentioned the packaging – and while I don't want to place undue emphasis on it, I have to say that the photography (for which I can find no credit) is stunning, whether it's the expected pics of Lena or of various images of the Swedish countryside.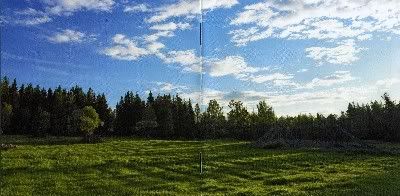 Lena has worked and recorded in many settings. With multi-instrumentalist Ale Möller and fiddler / bagpiper Per Gudmundson, she performs in the trio
Frifot
. She and Ale also have recordings to their credit as
The Nordan Project
, and she was also a member of a more experimental Swedish ensemble,
Enteli
, that drew on traditional sources, jazz and improvised music. Some of these recordings are on the prestigious ECM label out of Germany – and these are the ones most readily available in the US. I can heartily recommend recordings by either
Frifot
or
The Nordan Project
, or
any
of Lena's solo work – as for
Enteli
, I haven't heard enough of their work to form an opinion just yet.
This is an incredible recording – I think I've gotten that opinion across by this point – it lives and breathes, and delivers an amazing range of emotions. There is no doubt when listening to this album that this is Swedish music – but at the same time, it's universal, issuing from the souls of the performers to that of the listener. No 'language barrier' is high enough to prevent it from touching anyone with an ear for beautiful, organic, honest music – it's the sort of thing that can break down walls, and give us hope.
links :
cdRoots
(a great source for music from all over the world...wide selection, fair prices, good service)