pure grace and beauty in sound:
Dino Saluzzi + Anja Lechner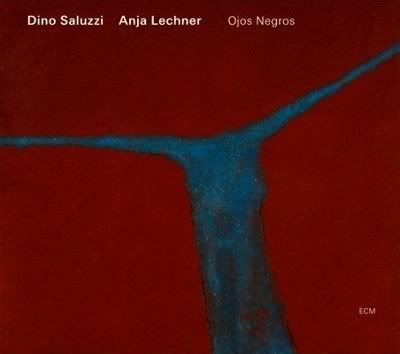 I've had this recording for 2-3 weeks now, and I can't seem to get enough of it. On first listening, from the first few notes breathed from Dino Saluzzi's bandoneón, I knew I was in for something magical. Even though Dino's 'sound' is recognizable immediately, no one should mistake that statement as characterizing him as standing still musically – nothing could be further from the truth. His art is continuously evolving and growing – the musical forums in which he places his work are by no means repetitive. Since the issue of his first album for ECM,
Kultrum
(1982), I've been following the creativity of his music, and I've never been disappointed. He has worked as a solo artist, in duos, trios and larger groupings – his 1999 recording with the Rosamunde Quartett (again entitled
Kultrum
) showed that the bandoneón fits perfectly into a setting that could almost be classified as a form of chamber music.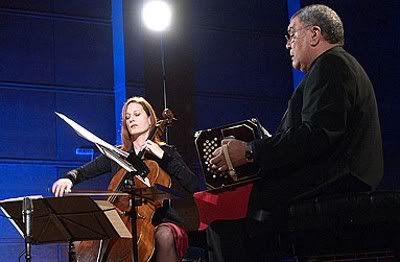 That recording also marked his first work with Anja Lechner, cellist for Rosamunde – she had for some time loved the music of the tango, and working more closely with Dino allowed her to hear that genre performed in a manner much more authentic than the European derivatives to which she had mainly been exposed. Just before she heard Dino play for the first time, in Munich, she had the opportunity to play concerts in Argentina, where she discovered that her suspicions had been correct: the style of tango being played in Europe was, for the most part, a pale imitation of the real thing. Dino's music, she relates, '…was more profound that
just
tango. He was playing a music that was really his own…I entered a new world.' She is without a doubt one of the finest cellists working today in
any
genre – her skill and sensitivity, and her ability to convey emotion and feeling in her playing without overriding her partner make her a perfect match to Dino's music.
The phrase 'more profound than
just
tango' describes the art of Dino Saluzzi perfectly. In his hands, the bandoneón breathes with a life of its own – it becomes a part of him, an alternate voice, a storyteller, a filter through which passes everything he has seen, felt, tasted, experienced over the course of his life. When I listen to Dino play, I can close my eyes and see a mountain path shrouded in the mist of early morning. I can rub the dirt of a country road at twilight under my bare feet, feel a wind with a hint of coming rain blowing in early evening, take in the scent of a meal cooking over a fire, hear the laughter of children playing, relax in the embrace of a lover, see the wisdom in the dark eyes of a forest Indian. Dino's music is his history – there are pieces inspired by events, family members, acquaintances, places and times – and the skill, love and care with which he evokes all of these things is nothing short of palpable in his playing.
There are a couple of pieces here that Dino has recorded before – 'Tango a mi padre', the album's opening track, is a loving portrait of his father, and first appeared on
Mojotoro
in 1991. 'Minguito' was recorded on
Volver
, a project he did with the great Italian trumpeter Enrico Rava, in 1986. All of the pieces, save 'Ojos negros' – composed by bandoneónist Vicente Greco (1888-1924) – are Saluzzi originals. 'Esquina' is a particularly beautiful example of how Dino's memories wind their way through his music. He remembers the time, in his village of Salta, more than 60 years ago: 'I still have this very clear picture of my father, sitting on a rock somewhere in our little village. I see him from the back, in his short-sleeved white t-shirt, in the moonlight, playing the bandoneón – and he's playing a song I loved when I was just seven years old, a sad song about leaving a beautiful small town to go to the big city of Paris…'
The bandoneón and the cello complement each other exquistely throughout the recording – alternately leading or supporting, weaving in and out of each other with the grace of skillful dancers, moving so naturally that the listener might be compelled to suspect mind-reading talents are involved. Grace is indeed involved, but the music is also evolving constantly – Anja Lechner says, 'In Dino's music, you never play any phrase the same way twice.' Dino adds, 'We are basically playing a music build of rubato phrases – but the conception of the rubato is different at every concert. The pieces change all the time, but the way the improvising is integrated is different from the jazz approach…the composition is an idea that suggests some possibilities…we take a lot of freedom with the forms.' The freedom here is based on structure as a foundation – but the skill of the players never allows the music to descend into anarchy. There is grace and beauty in every note, every phrase – it's a wonderful thing to experience.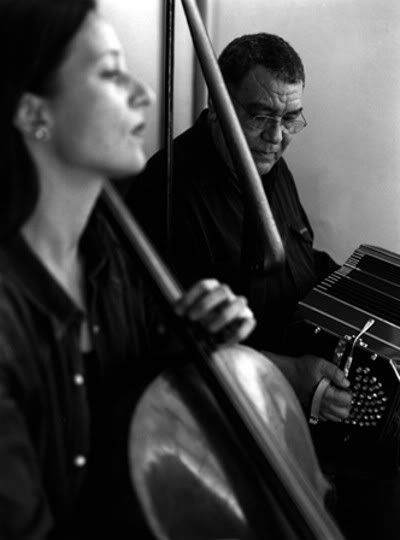 Now and then one can hear the rhythm and form of the tango assert itself – it rises up for a moment, as if to remind us of where this music was born, of its lineage, then dances off into the mists of sound created by the players, leaving an audio shadow, a presence that never quite disappears. That being said, one should definitely not go into Dino Saluzzi's music expecting it to be limited to 'tango' – that would be a big mistake. When asked if his music should be called 'tango', Dino wisely says 'Time spent trying to define the music is time taken away from playing it. I always simply say, "I play music, sir", and I hope that is enough…does the music touch you or not? This is what matters.'
I've always felt that the mark of a master musician is the impression left with the listener that the instrument is an extension of the performer's voice, of his or her very soul – a window to their inner being, through which everything that makes them the person they are can be 'seen' in the form of sound. This recording delivers on that rare level – and it soars even higher on repeated listenings. It's a treasure in the fullest sense of the word.
links: