Iran – 2004
A moving look at the resiliency of children in crisis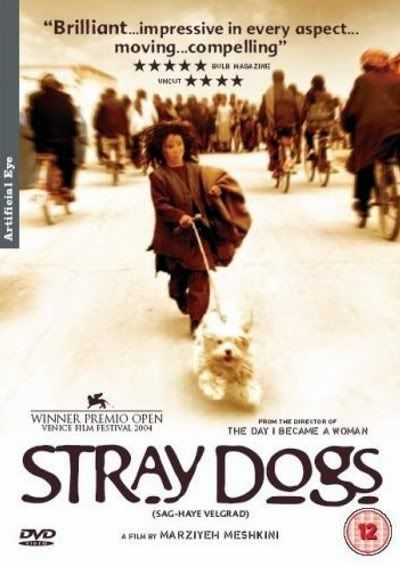 Marziyeh Meshkini's latest film,
Stray dogs
, from 2004, vividly illustrates that her earlier work,
The day I became a woman
(2001), was no fluke – she is a filmmaker with a unique vision, with the technical abilities to translate that vision to the screen. Great filmmaking runs in the family – Marziyeh is the wife of renowned Iranian director Mohsen Makhmalbaf, who has 18 features to his credit, including
Gabbeh
(1996),
A moment of innocence
(1996),
Silence
(1998), and
Kandahar
(2001). Their daughter Samira has followed in the artistic footsteps of her parents, directing
The apple
(1997),
The blackboard
(1999), and
5 in the afternoon
(2003). Their son Maysam and daughter Hana have begun their own careers with shorts and documentaries. The Makhmalbaf Film School was established by Mohsen so that Iranian students interested in working with cinema would have the opportunity to learn their craft in their own country – his family members who are working in film, as well as others, have been given a chance that might well have been outside of their grasp if not for his devotion to his art.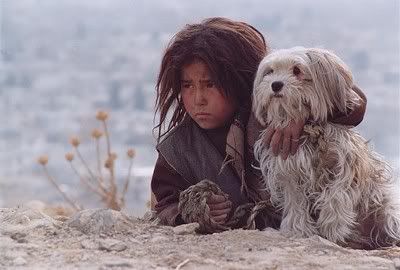 Stray dogs
is filled with memorable images – Marziyeh's eye, spirit, intelligence and skill work together, along with her talented team, to tell this story in such a way as to carve it into the heart and soul of the viewer. The film is set in Afghanistan, after the fall of the Taliban – the two central characters are a sister and brother, Gol-Ghotai and Zahed, respectively. Their ages are never given directly, but I would guess that she's around 7, and her brother perhaps 11. For all practical purposes, the two are war orphans – their parents are alive, but both are in prison and unable to care for the children. Their father is a Taliban mullah who has been imprisoned by the Americans. When he went off to fight in the war, disappearing without a trace for 5 years, the mother assumed he was dead and, unable to properly provide for her children, remarried – their father reappeared and, finding his wife married to another man, charged her with adultery. Her second husband is now dead – she begs the children, who are at first allowed by prison guards to spend the night in their mother's cell, to go to their father and convince him to forgive her, so that she can be set free and take care of them. He continues to refuse, saying that 'she can burn in hell'. Talk about kids being caught in the middle of a domestic dispute!
Gol-Ghotai and Zahed have nowhere to live – they do their best to survive on the streets, foraging for anything salvageable that can be eaten, sold or burned for warmth. One day they cross paths with a large group of boys, brandishing torches, chasing a stray dog. 'Kill him!' one boy shouts. 'It's a Western dog!' The boys trap the dog in what appears to be some sort of deep outdoor kiln – it cowers and barks below as they shout taunts at it, now and then tossing down a torch to torment it. Gol-Ghotai slips into a horizontal shaft leading to the area where the dog is trapped – she grabs it and pulls it to safety just as its pursuers toss down the rest of their torches, creating an inferno intended to kill it. The dog becomes the constant companion of the sister and brother – and fittingly, as the two of them have been living as little more than stray dogs on the streets already.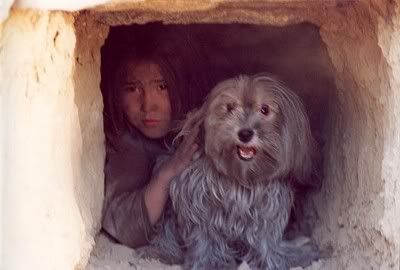 The children are informed by a formerly friendly guard at the prison that a crackdown by the governor makes it impossible for them to spend the night with their mother any more. Desperate to be with her, aching to reestablish a sense of family, they concoct a scheme to commit a crime and get arrested in order to be placed in prison with her. The idea comes, fittingly enough, from the two of them viewing Vittorio De Sica's classic film
Bicycle thieves
– an honest and respectful nod by Marziyeh to the great Italian director – and the scene in which Zaheb steals a bicycle and gets arrested is a beautifully realized visual echo of the scene in De Sica's 1948 film where the father steals a bicycle and is surrounded by a mob of citizens and taken into custody by the police.
In an oft-repeated quote, W. C. Fields once said 'Never work with animals or children' – Marziyeh Meshkini has done both here, and brought it off with great success. The two child actors are astonishingly believable and natural – especially Gol-Ghotai. The emotions they were called upon to portray come across as very real, and are never overplayed. While the subject matter and setting are dark, the director and her actors also manage to inject a few elements that are nothing short of playful – in one scene, after having little success in coaxing the dog they've adopted into eating from a piece of flatbread, Gol-Ghotai holds it over strips of meat smoking on a grill so that it will absorb some of the odor. Her character (whether by instinct or by direction) is obviously pleased with herself for thinking of this – and the twinkle in her eye shows it, and is very real.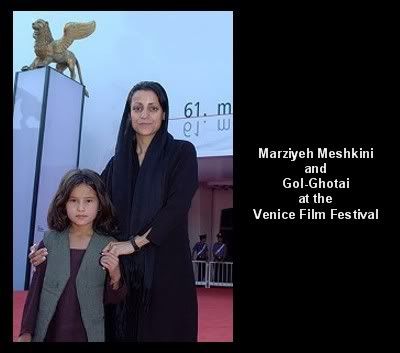 I'm not sure how widely
Stray dogs
was distributed to theatres in the US – the DVD was released at one point by (I believe) a Canadian studio, but is no longer readily available. I picked up a region 2 copy from Artificial Eye in the UK – their releases are generally transferred to digital media with great care (although they contain few 'extra items' as a rule), and this one is no exception (you can check out their catalogue via the link below). It looks and sounds great – one more reason for having a region-free DVD player – and however you can see it, I recommend it wholeheartedly.
links: