musical magic that won't stay hidden for long...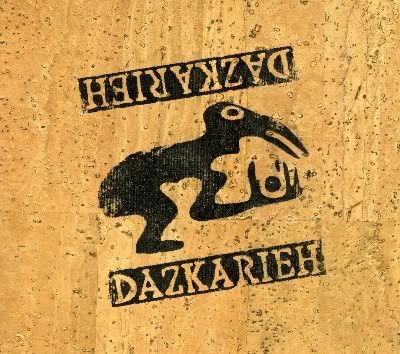 With
Incógnita alquimia
, their third full-length album, Dazkarieh ably demonstrate that they are a musical unit possessed not only of ideas and desire, but of immense talent – and an audibly growing maturity. Founded in 1999, they have undergone many changes in personnel – in fact, from their last album (released in 2004) to this newest one (released in 2006), there is only one group member remaining, with one 'guest' carrying over as a full-fledged member – everyone else is 'new'. What gives the group the continuity I hear when I listen to these two releases (I have yet to acquire their first album – it's only a matter of time, trust me…!) is the spirit that pervades both recordings – it's a delight to experience. Even the packaging is unique – this new recording comes in a folder made of cork, with six high-quality cardstock inserts bearing photos, lyrics and other information. The previous album was available for a while in a hinged balsawood box, and is now in a more standard packaging...but it's the music that matters, of course.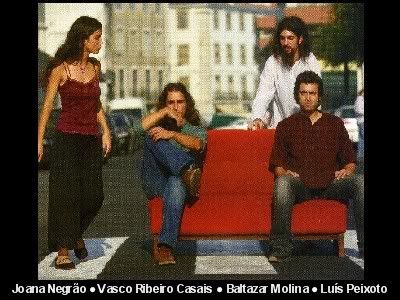 The current band is made up of Vasco Ribeiro Casais (
nyckelharpa
,
bouzouki
, assorted bagpipes); Luís Peixoto (
bouzouki
, mandolin); Baltazar Molina (an incredible array of percussives, including but not limited to
cajón
,
tar
,
darabukas
,
riqq
); and Joana Negrão (vocals,
adufe
) – these are the instruments listed on
Incógnita alquimia
, but I suspect it's an incomplete inventory. I can hear sounds that are hard to pin down on the recording – for instance, there's an instrument that almost sounds like an electric guitar, which could be coming from either a bouzouki or a nyckelharpa – but that's all part of the Mystery, I suppose.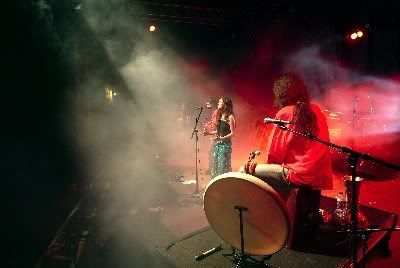 The tracks are divided evenly between vocals and instrumentals – every one is a stand-out track. Joana's voice is a wonderful instrument – she can caress notes as tenderly as one would the heart of a lover on one tune, then wave the lyrics like a firebrand on the next, always in control, always compelling (even if one doesn't speak Portuguese). Vasco and Luís interweave delicate melodies and inspiring rhythms on their stringed and air-driven instruments – a swirling path that lifts me off the ground when I listen to them. Baltazar's ever-changing but steady percussive touches provide a heartbeat that can be powerful or subtle, always giving to the music, never taking anything away from the total effect.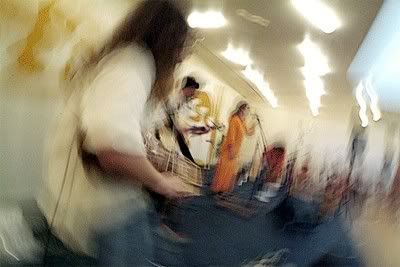 The band remains true to their Portuguese heritage and roots – illustrating vividly to listeners that there is more to the music of Portugal than
fado
(not to diminish the value of that gift to the musical world in any way!). Their original compositions sit comfortably alongside their arrangements of traditional songs and tunes – and here and there, one can hear echoes from other traditions: the percussive touches from North African and the Middle East brought into play by Baltazar; the Swedish nyckelharpa of Vasco lends its voice, and now and then distinctively Celtic melodies fly from both that instrument and Luís's bouzouki. The amazing – and delightful – thing is that through their love of the music, combined with their sensibilities and talent, Dazkarieh makes the mixture work – the various cultures at play in the tunes never clash or sound out of place. It's not something that's easy to pull off –
Radio Tarifa
(from Spain) and
3 Mustaphas 3
(from Szégérely…I'm not sure exactly what planet that's on, but that's their story and they stuck to it for the length of their wonderful existence…!) come to mind as far as bands who combined multiple cultures with respect, energy, fun and beauty.
Stephan Micus
is a great example of a master who manages to combine instruments from all over the world (many of which would never be played together otherwise) with great success, usually on a more 'meditative' level than the others I've mentioned.
None of the above 'name-dropping' is meant to imply that Dazkarieh actually sound like any of these great musicians – or that they are derivative in any way. This band sounds like no one else – and I can't wait to hear where they go from here. They're relatively young, immensely talented and apparently deeply inspired – I can hear them maturing just in the space between their second and third recordings, and I think it's safe to bet they're not going to stand still.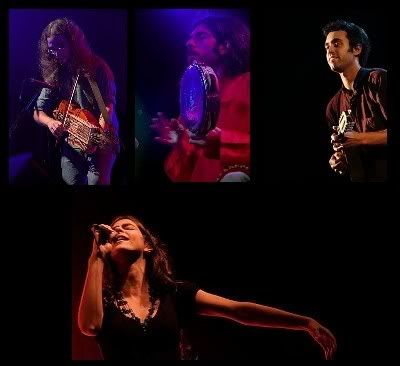 Check out their website (link below), listen to some samples – but if you pass them up, you're missing out on something wonderful and moving.
Dazkarieh – official website

cdRoots – a great source for Dazkarieh recordings, as well as great music from all over the world...fair prices and dependable service