Addison's wall
The silence grief leaves behind
As far as I can ascertain,
Addison's wall
is the first film of (near- ?) feature length from director David Waingarten – the only other credit I found on IMDB is for his short
Post
(2003 – 6min), which is included on this DVD as an extra item. From the strength of these two works, in my opinion, Waingarten is someone to watch.
Addison's wall is a study of the effects of grief and the process of healing, not only on the nine-year-old boy of the title (Colton Lasater), but on his mother (Ritah Parrish) as well – both of them have been deeply traumatized by the suicide of Addison's father. Addison's own method of coping with his grief is to escape through silence and separation – he has not spoken to anyone since his father's death, and his mother is just about at the end of her rope. She has relocated the two of them to a new town, in the hope that a 'new start' will set them both on the right path. Most likely due to her own emotional pain, she has a hard time deciding what is 'right' for her son in this crucial period – she wants very much to trust Addison's own instincts in finding his own path to healing, and communicates this to the principal of his new school, asking that he be allowed to remain silent while he works through his grief. The principal reluctantly agrees, telling Addison's mother that she will communicate to the boy's teachers and ask that they be patient with him – she also expresses how dangerous she thinks it will be for him without counseling.
Addison is misunderstood by his teachers and ostracized by his classmates – one in particular, a bullying young thug named Marcus (portrayed by Ben Milam) who takes every opportunity to torment him, taunting him repeatedly with a threatening 'Ssshhhh….!', accompanied by the laughter of his cronies. In one particularly charged scene, Marcus corners Addison in the school's makeshift library, pinning him to the floor and waving a pair of scissors in his face, saying 'Now we're gonna find out what it takes to make you scream…!'
Unfortunately for Addison, his mother's own pain is clouding her judgement – despite her best intentions, we see the boy slip further and further from reality. He makes begrudging attempts to communicate with her (and with his teachers) through written notes – but the main expression of his grief takes place out of sight. When they move into their new home, Addison's mother gives him a blanket that belonged to his father – he indicates by gesturing that he wants it hung on the wall of his bedroom. He begins spending time behind it, divorced from the outside world, expressing his hurt and frustration and anger by writing and drawing on the hidden wall. Feeling safe, hidden from view, he vents his hatred of Marcus, his (understandable) questions about his father's death, and more. On one occasion, with a radio talk show playing in the room, he begins to write down numbers, seemingly at random, that appear to fit into the broadcast conversation immediately after he scrawls them on the wall – he begins to think he can influence events by what he writes, another step away from the real world.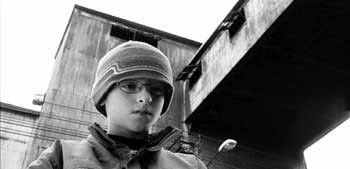 Addison begins spending more and more time away from the house – and his mother discovers, through a phone call from his principal, that he hasn't been in school. Alarmed, she breaks into his locked room and discovers the wall behind the blanket – which of course leaves her shattered.
The film is shot in beautiful black and white – a perfect choice, I believe, that underscores the tension and aspects of unreality in Addison's world. Black and white is a great way to draw the viewer further into the film – there is an unconscious urge to 'complete' the images we're used to seeing in color. David Waingarten has obviously put a lot of care into the short space of the film (61 min) – not a shot, not a frame is wasted. His camera lingers on the faces of his actors beautifully – and the shots that are wider give the viewer a perfect taste of the atmosphere in which this story takes place. The cast is just right – any attempt to shoot this story using 'name' Hollywood actors would have been distracting. These people look and act 'real', and that's a vital part of the film. If some find the fact that the ending is 'unresolved', I don't think this is a detraction at all – the subject matter of this film (trauma and healing) is something that bears further thought, and the ending compels the viewer to speculate more on the outcome than if everything were 'tied up neatly', as in too many films.
Waingarten's short film
Post
is a treasure as well, dealing beautifully and almost in a dreamlike way with a grown woman's memory of the disappearance of a childhood friend. Shot in Super 8 color, with the overall effect of a visual echo, the film does wonders in capturing the events from a child's point of view. Memory is an amazing thing, and like Nichola Bruce's incredible film I could read the sky (see my entry for 22 November 2006), it's represented here more like it actually occurs than like a film playing in one's head. I was mesmerized watching it, and did so twice more in succession. Like
Addison's wall
, the ending is a bit open – but also like the longer film, the subject is one that cries out for more attention and involvement.
Both of these works show great creativity and talent from David Waingarten. His work on
Addison's wall
has been compared to Hitchcock and Polanski – but I think this director will show with further films that he has a vision that is his own.
This DVD is available to order directly from the good folks at
CineQuest
(check out their other great titles also), as well as from
Amazon
, at a very reasonable price – if you're not willing to take the plunge, it's available through
NetFlix
. You can also go the
film's website
and watch a trailer – I think you'll be hooked.