Tindra : Lukkeleg vaking
fresh new music from Norway
I happened across a reference to this recording a couple of weeks ago when I was browsing on the CDRoots site – a great source for roots music from all over the world. Their brief description sounded intriguing, so I bit and ordered it – a few days later it showed up in my mailbox, and when I played it I was not in the least bit disappointed. This is some of the most delightfully fresh Nordic music I've heard in a while. The album title,
Lukkeleg vaking
, means 'sleepless and blissful' according to the notes – and I find that a very apt description of this recording.
Tindra is a trio, having played together since 2000 when they were students at the Norwegian Academy of Music : Åshild Vetrhus (vocals), Jorun Marie Kvernberg (fiddle) and Irene Tillung (accordion). That's it – but what they do with it is incredibly satisfying. I can only detect a couple of places on the album where I think they used a little bit of overdubbing, doubling the vocals here and there, as on 'All må do (All men must die)', and some harmonies (unless Jorun Marie and / or Irene are offering up vocal harmonies that aren't credited). Their producer Gabriel Fliflet contributes vocals on one track ('Lasseskaren'), and Aasmund Nordstoga does the same on another ('Der va om lordagskvelden [Saturday night]'). The arrangements are thus spare – but never thin or empty, thanks to the musicianship and imagination of these ladies.
To augment their sound palette, the two instrumentalists utilize the full voices of the tools in their hands. Jorun Marie sometimes strums her fiddle instead of bowing it, which of course approximates the sound of a mandolin (since it's tuned the same as a fiddle) – and Irene is not shy about going 'deep' into her accordion's range, which at times almost sounds like a double-bass bowing away in the background.
The pace of the individual tunes runs the gamut from slow ballads such as 'Lille Lisa (Little Lisa)', which tells an age-old tale of a maid having an affair with a knight, becoming pregnant, and being forced to leave home; through the medium tempo jauntiness of 'Den store trasten forelskar seg (The big thrush falls in love)', whose humor, even without a knowledge of Norwegian, is infectious; to the impossible-to-keep-still energy of the instrumental 'Jig og du', featuring some great work from both Jorun Marie and Irene, showing their versatility and vitality.
Two of my other favorite tracks on the CD are the final two: 'Sjøvals (Sea waltz)', an instrumental 'dedicated to the rolling sea'; and 'Kvednafjell', a musical setting by Åshild of words written by her grandmother Gudrun, 'describing her lifelong attachment to the mountains of Kvednafjell'.
The insert gives English titles and brief explanations of the lyrics, but not full translations – a minor inconvenience at best, since the feeling of these songs and tunes come across just fine to my ears. Emotion is carried by more than the meaning of words alone – and there's plenty of it in this music.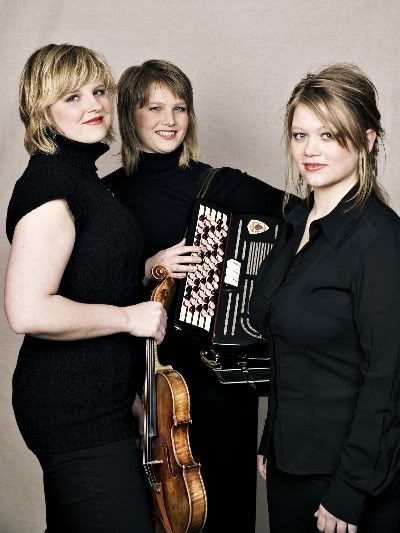 I'm happy to have gotten in on the 'ground floor', so to speak, with this initial release from Tindra – it's easy to hear that these women have a lot to offer the musical world. I can't wait to hear where they go from here. If you enjoy well-played music that remains true to its roots at the same time it gently and fearlessly steps through the present into the future, you owe it to yourself to check this out. You might not find it locally (Amazon doesn't even have it), but
CDRoots
is a dependable source for this and many other examples of ethnic music from all over the world – their prices are reasonable and their delivery (at least in my experience) is quick.