Sound and image:
two new releases from ECM illustrate the connection
Even before the advent of sound in motion pictures, there has been an inescapable tie between the two forms of expression. When films were still silent, musical accompaniment was provided 'live' in the theatre, when possible, by a pianist – and often this musician employed other sound effects to augment the images playing out of the screen, thus embedding them more deeply in the minds of the audience members. Sound recording coupled with cinema took this relationship much further – most of us, no doubt, connect certain pieces of music with the films in which they were utilized…even if it's on a subconscious level.

Two releases from the esteemed German label ECM Records, out this week, give wonderful examples of the ways in which sound and image complement each other – and urge each other on to new paths, ideas and goals.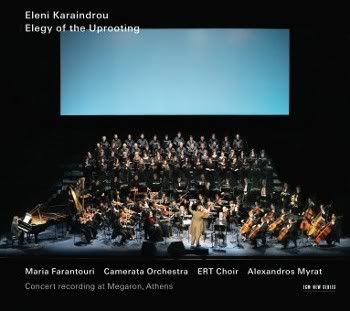 Greek composer Eleni Karaindrou is no doubt best known for her work in creating the scores for the films of director Theo Angelopoulos – she has worked with him on his last seven features: Voyage to Cythera (1984), The beekeeper (1986), Landscape in the mist (1988), The suspended step of the stork (1991), Ulysses' gaze (1995), Eternity and a day (1998) and Trilogy: The weeping meadow (2004). Angelopoulos has said of her contributions to his work, 'Eleni Karaindrou's music doesn't accompany the images – it penetrates the images, it becomes an inextricable part of the images. I would say it takes part of what is called anima, so, in the end, you can't tell one from the other – that's how closely knit they are... I believe that Eleni is at the moment one of the best existing film musicians in the world.' Anyone who has seen any of these masterfully crafted works of modern cinema cannot fail to be moved by the effect of Eleni's music in conjunction with Angelopoulos' art.

However, her work extends beyond those efforts into writing music for the stage as well – both before her association with Angelopoulos and in the time since. In 2001, she produced one of her most expressive and innovative works to date – the music for a staging of a modern translation of Euripides' Trojan women. She often draws on the ancient dramatic and musical traditions of her homeland, sometimes combining historical instruments such as the lyre, santouri, laouto, kanonaki, harp and ney with all or part of a modern orchestra, as well as voices, either by way of a choir or featuring soloists.
Eleni relates in the CD booklet that she began to sense a thread running through her work – the Angelopoulos film music as well as her compositions for the stage: the spirit of the exile, who has by choice or by fate been uprooted from his homeland. Her music laments this exile, but in the same breath gives hope and strength to the spirit – it penetrates the listener to the very soul, sometimes striking a vibrant chord, sometimes delicately setting subconscious strings in sympathetic motion, causing a subtle yet very effective echo to resonate, sending its ripples radiating out from the point of contact. There is a beauty and focus to her music that rivals that of the images seen by the eye.

The music on this 2-disc set was recorded in concert in Athens in late March of 2005. The Camerata Orchestra is conducted by Alexandros Myrat – the Hellenic Radio / Television Choir by Antonis Kontogeorgiou. Also performing is an ensemble of musicians performing on traditional instruments. Maria Farantouri – whose association with Eleni's music goes back to the early 1970s, and whose work with such notables as Mikis Theodorakis is recognized and cherished in Greece, is the featured vocal soloist. Eleni Karaindrou performs on piano – her solo rendition of 'Refugee's theme' from The suspended step of the stork is breathtakingly beautiful.

The composer has woven pieces from the films and theatre productions into a new tapestry – those who have heard these works in their original contexts will recognize them immediately, but will also be struck by the new 'whole' of the conceptual framework. Eleni's music is a treasure – she has found a common golden thread and used her instincts to present it in such a way as to make it completely new, even as the familiar strains heard before echo in the well of the listener's soul.

As a final note on this release: ECM's production values are, as usual, of the highest order. Although it was recording in concert before an audience, you'll completely forget about that until near the end of the second disc. The sound is perfect – every note shimmers.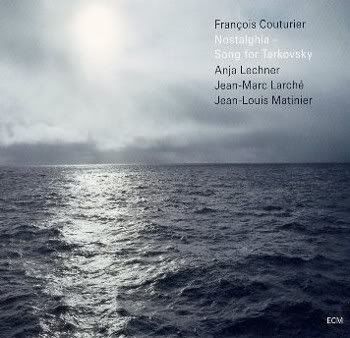 The second release I'll address here comes from François Couturier – the notable French pianist whose work with oud master Anouar Brahem (another artist on ECM's roster) first caught my attention. On Nostalghia – song for Tarkovsky, Couturier presents twelve works that, rather than being 'scenic' music, are intended by the composer to represent or echo '…a specific emotion linked to the universe of this director – to his films, of course, but also to some of his favourite actors or composers'. To this end, while the titles of some pieces refer to specific Tarkovsky films, others bear dedications to actors Anatoli Solonitsyn and Erland Josephson (both of whom worked on multiple Tarkovsky projects), the great cinematographer Sven Nykvist (who contributed his amazing talents to The sacrifice), Italian writer Tonino Guerra (who co-wrote, with Tarkovsky, the screenplay for Nostalghia, as well as several films with Angelopoulos, Vittorio de Sica and Michelangelo Antonioni), electronic composer Eduard Artimiev (who contributed music for Solaris, Mirror and Stalker), as well as musical references to Bach and Pergolesi.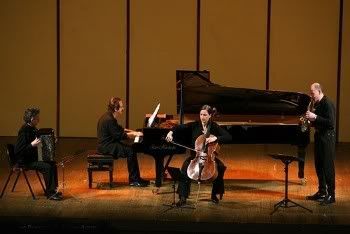 Accompanying Couturier on this outing are three exceptional musicians. Accordionist Jean-Louis Matinier is another veteran of the Anouar Brahem trio – he has also worked with Louis Sclavis. His playing is sensitive to both the spirit and body of the compositions. Jean-Marc Larché plays soprano saxophone – he's another veteran of work with Brahem, as well as with the celebrated French big-band Orchestre National de Jazz. Rounding out the group is cellist Anja Lechner – a long-time member of the widely respected Rosamunde Quartett.

As one who admires – reveres – the work of Tarkovsky as a genius of filmmaking, I approach any 'tribute' to his work with high expectations. This recording didn't disappoint me in the least. Couturier has captured an indescribable essence of spirit and mood from the films – and thoughts – of the great Russian director. Instead of merely echoing what Tarkovsky has placed before the viewers in his inimitable way, this CD reflects beautifully the ways in which the films have touched the soul of the composer. In his brief notes, Couturier says, 'Andrei Tarkovsky is my favourite filmmaker…I have seen all of his films over and over again…They are long poems, hypnotic in their slowness, and pervaded with spirituality.'

The same can be said of the compositions presented here. With the exception of two group improvisations ('Solaris' and 'Solaris II') and the duo improvisation 'Ivan', this music is meticulously constructed – and all of it is masterfully performed. The instruments interact so naturally that at times they seem like extensions of each other – a sure sign of musicians who are operating as a living, breathing unit. There is delicacy as well as power portrayed in the various selections – and there is, even in the more free-form pieces, an elegiac quality similar in spirit to that which haunts all of Tarkovsky's films. Just as his films reveal more and more with repeated viewings, the music on this release will open deeper levels for the listener to experience each time it is heard.

As the album background information on ECM's website says, the meaning of 'nostalghia' is central to understanding the heart that beats at the centre of the director's work. Rather than simply conveying the literal translation of 'nostalgia', or even the deeper Russian meaning of 'longing for one's homeland', it goes on to quote Tarkovsky as saying that the word was meant to indicate a 'global yearning for the wholeness of existence'.

It is at this point (for one) where the film works of Tarkovsky and Angelopoulos gently touch – neither is derivative of the other, but there is a yearning for 'something more' expressed by both in their art. The spirit sees what could be, and longs for it – it's what drives us to reach for more, to become what we know we can be as human beings, as searching souls.