revisiting an old favorite:

Area (International

POP

ular group)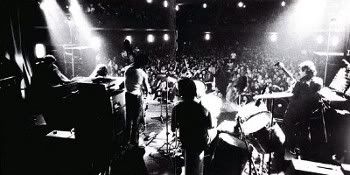 I thought I'd take a few minutes and leave a post about one of my all-time favorite progressive bands. Area were mostly Italian (their singer was Greek, born in Alexandria, Egypt), and were active from their founding in 1972 until 1979, when Demetrio Stratos, their amazing lead vocalist, died of complications arising from his treatment for leukemia. The other members carried on in one form or another, intermittently, until 1997 – but despite the high quality of their musicianship, it was never the same after Demetrio's untimely death.

If you're a fan of phenomenal progressive music that stretches the envelope to the bursting point, and you've never experienced the music of Area, you should immediately check them out. They began releasing albums in 1973, they created some of the most incredible recordings of the era – and those releases are as startling today as ever. It's said too often when speaking of musical conglomerations, but it's truer in this case than in most: they literally sound like no one else.

The solid base on which their sound was built is the superb musicianship and imagination of the individual members. Ares Tavolazzi (acoustic & electric basses, trombone, pocket trumpet, mandola) and Giulio Capiozzo (drums & percussion) – these two guys are phenomenal in their power and precision, absolutely one of the best rhythm sections I've ever heard (and the term doesn't do them nearly enough justice, considering their contributions to the whole). Layering their talents on top of this foundation are Patrizio Fariselli (electric & acoustic pianos, synth, bass clarinet, percussion) and Paolo Tofani (electric guitar, guitar synth, flute) – two more astoundingly talented players/composers. Fariselli is incredibly fast and melodic in his keyboard work – and I would rank Tofani right up there with the top guitarists of the era. His guitar synth work is very tasty indeed, not trite and contrived like many who utilized this tool with their instrument.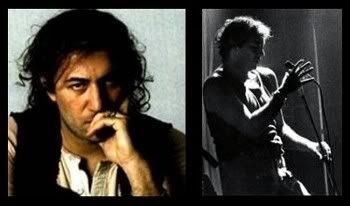 The vocals – I don't know how to describe what Demetrio Stratos (who also contributed work on organ and electric piano) did with his voice. Demetrio took the human voice into realms that were hitherto unexplored. He sang of course – and he yodeled and shrieked and cooed and performed vocal gymnastics that were absolutely mind-blowing. When he 'just' sang, he was demonstrating abilities that are
far beyond
the reach of most humans – and when he went further, improvising fantastically, it was stellar. He destroyed borders and mercilessly shattered preconceptions. He took singing to new definition and heights. He has been described as 'operatic' – but that actually limits the description too much. There are elements of that in his style, to be sure – but there is so much more. He uses his voice as an instrument more than just about anyone I've ever heard –
Tim Buckley
's legendary recordings
Lorca
and
Starsailor
are the closest comparisons I can think of. If Stratos hadn't tragically died in 1979, there's no telling where his explorations would have taken him. There are times when he can be heard singing two or three notes at the same time – really. During his lifetime, he released five solo albums – I've only heard one of them, but it amazed me. He recorded it without any instruments or electronic effects, and it's a truly mind-expanding document. I've just discovered that these are available as a boxed set, 5 CDs in replica cardstock slipcases with extensive notes in Italian and English – it's on my 'get it quick' list, trust me.
I'll comment further on two specific albums,
Crac!
(released in 1975) and
1978: gli dei se ne vanno, gli arrabbiati restano!
(strange as it might seem, from 1978)...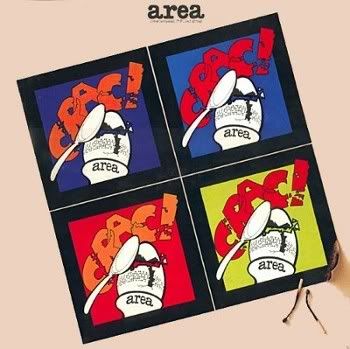 Crac! is made up of three songs and four (more or less) instrumental pieces (utilizing Demetrio's voice as additional player). The opening track, 'L'elefante bianco', is one that I literally wore out on my first copy of the LP – thankfully, CDs are more durable when it comes to playing a track over and over – one can simply hit the repeat button!
[ Humor me while I relate an anecdote: I worked in a record store when this album was newly released, and it spent a lot of time on the turntable there (hey – I was the manager, so who was going to stop me, capite...?). One day when I was playing it ('L'elefante bianco' had just kicked in, at pretty good volume…), a young woman came dashing into the store, demanding to know what we were playing. I showed her the cover – she was amazed at what she was hearing. She started hanging out at the store, became a good friend, and wound up being one of our best (and brightest) employees. Are you out there somewhere, Renae…? Get in touch!! ]
The second track, 'La mela di Odessa (1920)', was a concert favorite – the band lays down a deadly jazz-funk beat (and when these guys did it, it was on a whole other level compared to other bands who tried the same thing), with Stratos alternately singing, speaking, performing his vocal pyrotechnics…and eating an apple (he does this on their live album, AreAzione, as well – so it's apparent that it's an integral part of the song – and besides, 'mela' means 'apple'). 'Megalopoli' begins with Fariselli's and Tofani's synthesizers, working its way into a more conventional (well…as conventional as this band got, I guess) instrumental workout, with contributions from Stratos as well.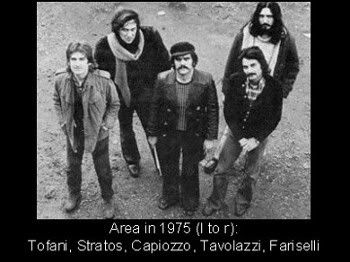 'Nervi scoperti' is another instrumental, this one kicked off by some amazing and beautiful flourishes from Tavolazzi's bass – and I believe, with uncounted repeated listenings, that most of his work on Crac! is on an acoustic stand-up bass, which makes what he's doing all the more incredible – the drums, keyboard and guitar join the fun, and some nice interplay ensues. 'Gioia e rivoluzione' is another song, with some very tasty, complex combined rhythm-and-picking work from Tofani on guitar. 'Implosion' finds the band in an instrumental vein again – and 'Area 5', which ends the album (composed by European avant-gardists Juan Hidalgo and Walter Marchetti), takes them further out on the experimental limb. This track especially will give the listener an idea of what Stratos can do with his throat.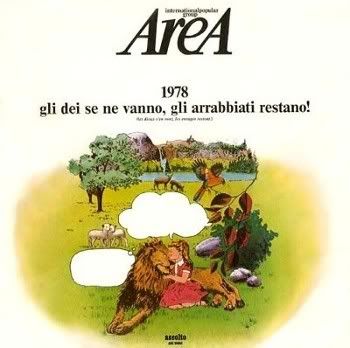 By the time 1978: gli dei se ne vanno, gli arrabbiati restano! was recorded, Paolo Tofani had left the band. Their sound changed a bit – but the spirit remained the same. This recording kicks off in fine style with 'Il bandito del deserto', with some wonderful work from Fariselli and Tavolazzi. The melodies laid down by the former are beyond categorization, but somehow they always sound intrinsically 'Italian' – and the latter's bass work is simply stunning, moving from incredibly fast riffing to chording and back again, without missing a step. Stratos wastes no time making his presence known, either – he shifts from (more or less) straight singing to his trademark fluid 'yodels' with ease, once again staking out territory where no other singers dare tread. His voice figures as one of the main instruments on 'Interno con figure e luci', the album's second track, as well – Fariselli adds some particularly well-played acoustic piano here also. 'Return from Workuta' is another vocal showcase for Demetrio – I don't know for sure what he's doing to his voice on this one, but I seem to recall reading somewhere that he never used any sort of synthesizer in conjunction with his singing, that he achieved all of his effects more or less 'organically'. Once again, Tavolazzi dazzles on the stand-up bass. 'Guardati dal mese vincino all'aprile!' begins with what sounds like a European police car siren, moving quickly into some great work involving Fariselli on piano, Tavolazzi's bass, and Capiozzo's precision drumming – then Stratos enters and takes the whole thing higher. With a stop-and-start, odd time signature combined with a surprisingly hummable melody, this is a track that will stay in the listener's head for some time.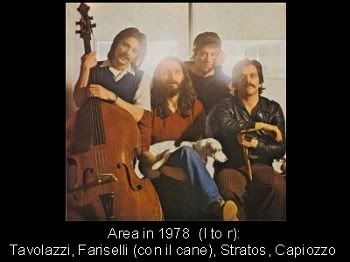 'Hommage à Violette Nozières' (a reference to the woman at the centre of a notorious Paris murder case in 1933, who was later pardoned by DeGaulle) features some lovely work by Tavolazzi on mandola – perhaps making up a bit for the missing Tofani – another song with a rousing, memorable melody line. 'Ici on dance!' is another upbeat number featuring Stratos' vocals – 'Acrostica in memoria di Laio' is a composition similar in construction to 'La mela di Odessa (1920)' on Crac!, with Stratos singing, speaking, cooing and screaming all of the parts of what appears to be a conversation between 3-5 different characters. 'fff (festa, farina e forca)' starts off with a very impressive (and not too lengthy, a pit into which too many percussionists fall, sadly) drum solo from Capiozzo – he's soon joined by Tavolazzi and Fariselli for an interesting instrumental ride. The final track, 'Vodka-Cola', typically on Area recordings, is much more free-form and experimental than the rest of the album, giving the whole band a nice chance to demonstrate their improvising skills.

All of the lyrics to Area's songs are in Italian (or 'Stratos-ian', in some cases…) – I've seen rough translations of some of them, and I've been able to get short phrases translated online, enough to gather (from the titles and photos and articles on the band as well) that most of them are left-leaning political in nature. Communist parties in Europe – and other organizations that turned to Marx for their theories and inspiration – have never had the 'bugaboo' stigma attached to them, as they have in the United States. They seem to be regarded by Europeans as 'one more school' of political thought – not demonized as they are in the US. Especially in the 1970s – when the band was most active – there was a large sector of the Italian population who professed Marxist beliefs, and there were several bands working at the time who incorporated the accompanying philosophy in their music. Area were immensely popular for a band whose music was so experimental – although, as with their politics, the Europeans have always seemed considerably more open-minded that their American counterparts. In 1979, with Demetrio seriously ill with leukemia and in need of expensive treatment, a huge concert was organized, to take place in Milan, to raise money for him. He died before the show could take place – it occurred the day after he died, with 60,000 in attendance.

Most of the band's catalogue is still available. There's a boxed set of their first four albums available, with others found here and there individually. All of their first six albums are notable: Arbeit macht frei (1973), Caution: radiation Area (1974), Crac! (1974), AreaZione (a live recording, 1975), Maledetti (maudits) (1976), and 1978: gli dei se ne vanno, gli arrabbiati restano! (1978) – after that, the work is pretty uneven, but with some brilliance in spots.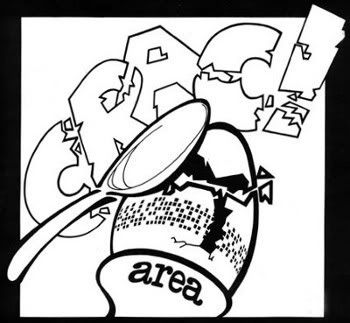 Their work remains, after more than thirty years in some cases, some of the freshest, most invigorating music in my collection. As a final comment: Patrizio Fariselli continues to do innovative work, and has a website with information on his current projects as well as a complete illustrated Area discography and photographs (
just click here for the link
).