Earth and ashes
by
Atiq Rahimi
(translated from the Dari by Erdağ M. Göknar)
Atiq Rahimi's short novel set during the Soviet occupation of Afghanistan compresses an amazing amount of emotion, pain and loss into its 81 pages. He gives us an incredible, ground-level view of what war can do to a nation that is already poor (in material things, that is – the spirit depicted here is stunning in its resilience) and lacking in the infrastructures and other benefits we tend to take for granted – running water, literacy, health services. The TV newscasts tend to take a view rather like some history books, speaking in terms of armies and generals and referring to people as nations, thereby depersonalizing the conflict.

The author has done an astonishing job in conveying the experience of his elderly narrator, Dastaguir – the old man has seen his village destroyed by the Soviets, all of his family that lived there killed with the exception of his grandson Yassin, who has been left deafened by the explosions. Dastaguir, in his grief and desperation, sets off on a tortuous trek through a harsh landscape in order to find his son Murad, Yassin's father, and inform him of the death of the boy's mother and the destruction of the village.

Along the way, Dastaguir wrestles with his grief (how to allow it to escape his heart); his conscience (how to tell Murad of the tragedy without destroying him); his sense of revenge and his hope for his nation and the world; nightmarish visions, hallucinations and memories that are too terrible to accept as reality. All the while, he must care for his grandson.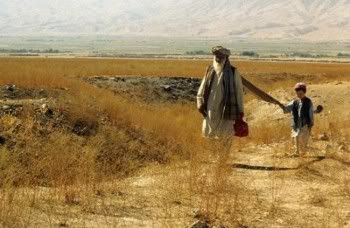 The boy has no understanding of what has happened to him – he knows that most of his family is now dead, and he comprehends the destruction of the village, but he fails to grasp the reality of his own deafness. He thinks that the Russians have stolen the sounds from the world, and the voices from the people, in the attack. When Yassin finally asks 'Grandfather, do I have a voice?', and the old man tells him 'yes', it begins to sink it – his next question to Dastaguir is 'So why am I alive?' It's a question that breaks the old man's heart – and one that he cannot answer.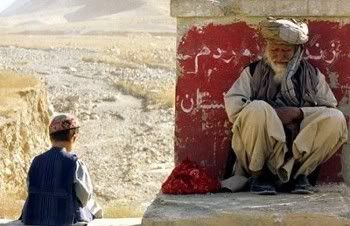 On his journey to find his son, Dastaguir encounters several amazing characters. Chief among these in kindness and wisdom is Mirza Qadir, a shopkeeper. The book makes the point that every single person has his or her own story – that these are individuals, not just a faceless 'nation'. They laugh and cry and love and suffer pain and loss and grief – and all of these are brought to life vividly in this short but rich work.

This is a story that will stand the test of time – and it is one that each of us should experience. I feel a heartfelt gratitude that Atiq Rahimi has focused what is obviously a formidable talent into blessing us with this precious gift.

Earth and ashes was made into a film, directed by the author, released in France in 2004 (the stills on this page are from the film). It has been shown at film festivals all over the world to wide acclaim, but as far as I can tell, has never been in wide release in the United States – nor does it appear to be available on DVD anywhere in the world. This is a shame – the reviews I've read of the film indicate that it's not only a faithful rendering of the novel, but a beautiful and moving cinematic work as well. Keep your eyes open, just in case it's available for viewing sometime in your area – and I'll keep my fingers crossed that it becomes available on DVD, so that more people can experience it.

In the meantime, there's always the novel – it's an incredibly well-written, moving read.