Dino Saluzzi Group

Juan Condori

music as deep as life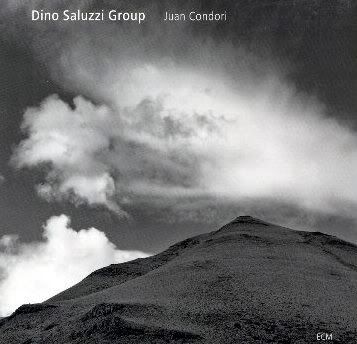 Most listeners probably associate the bandoneón with the tango, thanks to the genius and legacy of Astor Piazzolla. Piazzolla's work brought life back to the genre – including the 'darkness' of mood, the pain and sometimes the violence that accompanied life among the working classes, playing out in the bars and streets of Buenos Aires and other urban areas. While Dino Saluzzi's work has the spirit of the tango in its soul, in no way should his work be considered to be 'in the shadow' of Piazzolla. He has taken his composition and playing many paces beyond the tango – he has fearlessly crossed those invisible boundaries by which too many musicians feel themselves constrained and imprisoned, naturally embracing jazz, classical and folk motifs, combining them with the tango and other influences into a music that is his own, a vehicle with which to express the song he hears in his spirit. He has always eschewed labels for his work – he calls it 'a music of the emotions', intended to express the widest possible range of feelings. Anyone who has been fortunate enough to hear his playing would surely agree that he has been successful in that goal.

On Juan Condori (named for a childhood friend), Dino gathers his family about him: Dino's son José Maria Saluzzi (guitars), brother Felix 'Cuchara' Saluzzi (saxophones, clarinet), Felix's son Matias Saluzzi (double-bass, bass guitar) and a family friend ('honorary family member') from Italy, U. T. Gandhi (drums, percussion). The sense of comfort that pervades this recording is palpable – the musicians are at ease with themselves and each other, and the result is (in my opinion) one of Saluzzi's most satisfying sessions in years (and this is certainly not to deride anything he's ever done – it's all wonderful).

All of the compositions on this CD are by Dino, with the exception of 'Milonga de mi amores (by Pedro Laurenz), 'Soles' (by José Maria Saluzzi) and 'Improvisation', a group creation. The sensitivity of these players allows them to blend their instruments' voices effortlessly and gracefully, highlighting and complementing each other's work without ever over-stepping or showing off. The feeling of 'family' – in the truest sense of the word – permeates every bar of every track…they're here to join together and support, and they do so marvelously.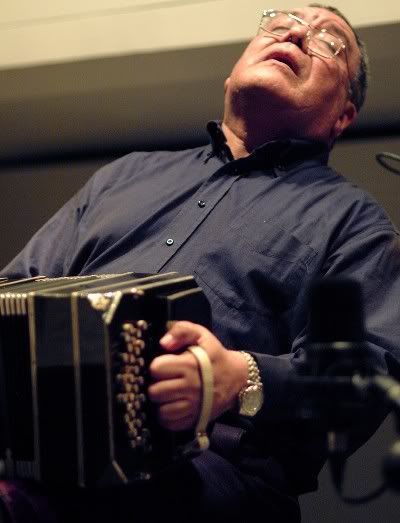 Dino Saluzzi is without a doubt the premiere bandoneón player of our time – he has made dozens of recordings (for ECM as well as other labels), as a leader and as a participant. In his hands, this difficult instrument is made – perhaps, more aptly, 'allowed' – to sing. His melodies can be as delicate as the wings of a butterfly or as powerful as the muscles of a horse in full gallop – and every level in between, as the spirit of his music requires. He touches the soul of the listener with his own, through his music. Saying that the bandoneón 'breathes' in his hands is not an overstatement – it becomes a living thing, united with the performer.

Dino's brother Felix has played with him on and off since childhood – and the empathy that such a long-term musical (and familial) relationship encourages shines here. Felix's reeds wind their way through the arrangements, lending accents and finding contrapuntal paths that are amazingly dexterous. Felix's son Matias' bass work is just right, not merely adding 'bottom' to the mix, but accenting melody deftly. The work of U. T. Gandhi on drums and percussion is never heavy-handed or inappropriate – he lays down a rhythmic foundation that supports and accents with perfection.

One of the delights, for me, in hearing this recording, is the ongoing growth and maturity evident in the playing – and composition, evinced by 'Soles' here – of Dino's son José Maria Saluzzi. José Maria played drums on Mojotoro (at 16), Dino's 1991 recording for ECM. He later turned his attention to the guitar, and contributed to Cité de la musique (ECM, 1997) and Responsorium (ECM, 2002). On Juan Condori, José Maria plays beautifully on both acoustic and electric guitars – his lines are flowing, melodic and inventive, and his work is an essential element of the 'feel' of this session.

I've had this CD for less than five days – but I've listened to it probably a dozen times. There is life here – there is the air of the mountains, the scent of the pampas, the longing of the soul for a lost friend or lover, the ache in the heart to see home again, the love of family, the pain of loss, the joy of companionship, the echo of memory – and more. When music can contain so much, and mean so many things to both the composer/performer and the listener, it's a treasure to be savored.